Standing Up
(2013)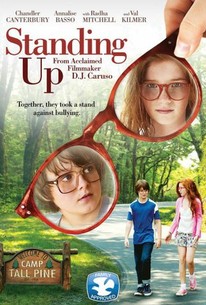 Movie Info
Standing Up tells the story of a boy and a girl, ages 11 and 12, who are ostracized by their peer groups at summer camp. The outsiders soon find themselves victims of a vicious prank, but rather than returning to camp to face the humiliation, they decide to take off on the run together. As they slowly navigate what lies ahead, they develop a bond and help each other over- come adversity and start down the path of self-discovery. (c) Arc Entertainment
Rating:
PG (for thematic elements including bullying, and for brief smoking and language.)
Genre:
, ,
Directed By:
Written By:
In Theaters:
Runtime:
Studio:
Arc Entertainment
Critic Reviews for Standing Up
Audience Reviews for Standing Up
½
150919: Could've been a hit but way too slow. Lacked impact except on rare occasion. Val Kilmer is a mess and seems to be good at being a mess character. He was the highlight. Ended well.
John Redshaw
I've noticed not many people seem to enjoy this one, but I found this to be a great story. Sure it had a few holes here and there, but then again, so do most movies. There's some really great quotes you can pull from here and some hidden meanings. I loved this one, then again, I love the summer stories about getting over bullying/falling in love/friendship and all that jazz. If you're looking for a simple summer movie to help with maybe some inspiration, I'd one hundred percent recommend this one.
Danielle Snow
One of those Netflix finds that I wanted to be a gem, but it ultimately ends up being far too unbelievable for its own premise. Two kids, Howie and Grace, are victims of a cruel prank at a summer camp. They are bullied simply for being outsiders and they both decide to stick together and escape. That basically is where the entire film goes as the two kids defeat the odds and find more about themselves and become great friends in the process. I found myself really liking the beginning of it with its coming of age feel and indie styling, but then it really did not change tone for the entire movie, which thankfully did not have a long run-time. If anything, 'Standing Up' suffers by trying to be TOO emotional and TOO triumphant. This comes in the form of the situations the two kids find themselves in and is further sweetened by an overly uplifting score. It does this to the point where it does not become believable. I will give the two young leads, Chandler Canterbury and Annalise Basso, the credit they deserve. Canterbury especially shows his charisma and chops throughout and is the character you want to see win. Basso is at times whiny and tries to become too much of an adult by the end, but is still charming in plenty of parts. While this is not a film I will urge people to see, it might make for a nice viewing.
Ben Bartos
Standing Up Quotes
| | |
| --- | --- |
| Howie: | Sometimes popular kids can be really cruel. They can bully you into thinking there's nothing special about you. |
| | |
| --- | --- |
| Grace: | I read about this monkey that the Russian government sent to outer space. They figured out that after a few weeks he would die because the heat from the sun would become unbearable. They said his journey would prove to be invaluable to the advancement of the space program. I wondered how they chose that monkey. That specific one. And why, if he was so special, would they put him in a situation where he could die. If that monkey knew what they were choosing him for, would he have behaved differently? Would he cry when he realized what they had done to him? |