Stateside
(2004)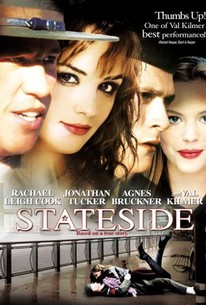 Movie Info
A love story about two imperfect teenagers who find perfect love. The film follows the story of two teenagers from different worlds--Mark Deloach and Dori Lawrence--as their lives quickly spiral out of control. The rebellious but privileged Mark delves into dangerous antics resulting in a nearly fatal drunk driving accident, and Dori Lawrence, a wild actress and singer slowly loses touch with reality as she suffers from schizophrenia. Forced to straighten out their lives, Mark is sent to join the Marines and Dori is admitted into a mental hospital. In the midst of life's chaos, Mark and Dori are drawn to each other, recognizing their mutual desperation for love and understanding. Despite pressure from both their friends and family to keep their distance, they maintain their bond. While they fail to fix what's broken in each of their lives, they find comfort in each other's faults and have faith that their unconditional love will eventually heal their deep seeded wounds.
Critic Reviews for Stateside
Audience Reviews for Stateside
As Dori, a pop singer suffering from schizophrenia with the hots for a Marine (Jonathan Tucker, great) Rachel Leigh Cook does some of her most interesting work ever. Her love for the Marine hits roadblocks though, both in the form of her illness and Tucker's drill-instructor (Val Kilmer). Writer-director Reverge Anselmo does well with actors, particularly Agnes Bruckner as Sue, who takes pride in her blow job skills, but Anselmo, basing his script on true events, overloads things with way too many plots. It flies off the rails quite easily, and sinks to soap opera levels. Sad.
Manny Casillas
Ok romance-drama about two crazy teens [one of them is literally crazy] who fall in love while one is in the Marine Corp. I must say that some of the dialogue between the two main characters was very weird but beautifully poetic in a way.Perhaps this film brought out the sappiness in me. Good performances by Jonathan Tucker, Rachel Leigh Cook [especially], Agnes Bruckner, Val Kilmer, Joe Mantegna, Ed Begley Jr., and Diane Venora. Overall it's somewhat entertaining and worth a watch despite it not being particularly good.
Chosen 718
Super Reviewer
½
After I saw this movie several months ago from insta-view on NF, I became a big fan of suckiness (the cool kind). Of course though, I am a sucker for girls who sing and play guitar, but this film had me longing for something unique and quirky in a relationship, not just infatuation or lust.
Russ Snow
Stateside Quotes
| | |
| --- | --- |
| Staff Sgt. Skeer: | You are here because you could not be trained to become men by the mothers of America. |
| | |
| --- | --- |
| Mark Deloach: | What kind of mother puts her daughter in a state asylum? |
Discussion Forum
Discuss Stateside on our Movie forum!