Stereo
(1969)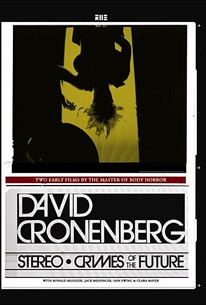 Movie Info
The first film by director David Cronenberg, the black and white, hour-long feature Stereo is more self-consciously avant-garde, and less visceral, than his later work. Nevertheless, many of the usual Cronenberg concerns are present: a futuristic setting, bizarre scientific experimentation, and an obsessive exploration of perverse forms of sexuality. Stereo borrows the structure of an educational film, masquerading as a documentary record of an experiment performed by The Canadian Academy for Erotic Inquiry, under the guidance of Doctor Luther Stringfellow. (Indeed, the film is almost entirely silent, except for a series of voice-overs by the experimenters.) The project centers around a series of surgical techniques that are designed to create the ability for telepathic communication. The scientists are successful, and proceed to examine the interaction between the experimental subjects, especially the rise to dominance of one of the telepaths. As the study progresses, the researchers introduce the telepaths to various drugs, including aphrodisiacs, to increase the intensity of their bond and induce a state of "omnisexuality." When the telepaths begin to isolate themselves, however, it becomes clear that the experiment has had unforeseen side effects -- effects that ultimately lead to violence. ~ Judd Blaise, Rovi
Critic Reviews for Stereo
Audience Reviews for Stereo
½
Cronenberg's first film should only please fans of his work, since it borders on pretentious (it is even hard to know weather it is meant to be taken serious or not) with poorly-edited, seemingly random images accompanied by a voice-over that is pure tedious psychobabble.
Carlos Magalhães
Super Reviewer
Call this one an interesting failure. "Stereo"'s minimalism is compelling -- the film is black and white, and entirely silent (not even music) except for intermittent narration by a variety of speakers. The story involves a scientific study which induces telepathic bonds between a small number of subjects. Sexuality (both hetero- and homo-) comes into play as an enhancement of the telepathy's potency, and eventually this has a side effect of physical violence for reasons which were not all that clear to me. The flat, academic narration becomes a chore to process after awhile, and its intense, deadpan concentration on "big words" hinders efforts to pluck out the central plot advancements (which the visuals can't communicate on their own) . Still, the cinematography is stylish and the emergence of Cronenberg's favored techno-sexual themes is notable.
Eric Broome
Super Reviewer
Stereo Quotes
There are no approved quotes yet for this movie.