Strange Illusion
(1945)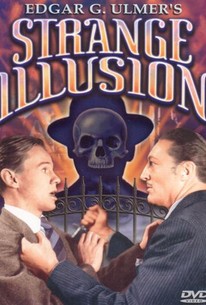 Movie Info
Strange Illusion is really several movies in one, part dark psychological chiller, part unsettling murder mystery, and part breezy B-movie thriller, although most of its plot is derived from Shakespeare's +Hamlet. Jimmy Lydon, best-known to audiences for his screen portrayal of Henry Aldrich during the early '40s, plays Paul Cartwright, the son of a respected judge who died under mysterious circumstances two years earlier. Paul is haunted by nightmares in which his father warns him of danger to his mother, and in which a mysterious stranger seems to threaten him and his family. He dismisses these dreams until his mother (Sally Eilers) introduces him to a new man in her life, Brett Curtis (Warren William), who says some of the very same things that Paul heard from the mystery man in his dream. There's a lot to dislike about Curtis despite his smooth, genial ways -- he seems too eager to please, and also offers an oily solicitousness to Paul's teenaged sister that's downright disturbing. Paul openly distrusts Curtis and opposes his mother's impending marriage to him. Most of those around him think Paul is overreacting and he is maneuvered into checking himself into a sanitarium run by a psychiatrist friend (Charles Arnt) of Curtis'. Trapped there and kept under constant surveillance, Paul is in danger, but he manages to find a clue that proves not only that his father's death was no accident, but that Curtis was involved in it. His discovery may be too late, however -- not only is his life in jeopardy, but it turns out that Curtis is really a career criminal that Paul's father had pursued from the bench for years, and that his real goal, having killed the judge, is to destroy the judge's family, including Paul's mother and sister. The plot of Strange Illusion works on many levels, as mystery and a dark psychological study, and it is told so smoothly and well by director Edgar G. Ulmer and his cast, that it may require multiple viewings to fully appreciate, though it is enjoyable on any level.
Critic Reviews for Strange Illusion
Audience Reviews for Strange Illusion
½
The opening dream sequence is kind of interesting with overlapping shots. It didn't occur to me until after skimming other reviews here on Flixster that the plot of the young man worried about his mother's new dangerous fiancé has its source in Hamlet. I suppose it does contain that influence, but toward the end it feels a bit like Scooby-Doo with the meddling teenagers. Ulmer, the director, does seems to make the most of the low budget, but some of the performances, primarily the main character Paul and his buddy George, lack refinement. Warren William as the soon to be father-in-law, Brett Curtis, has a great face for this type of suspicious and evil character.
Byron Brubaker
Super Reviewer
Strange Illusion Quotes
There are no approved quotes yet for this movie.