Strange Things Happen at Sundown
(2003)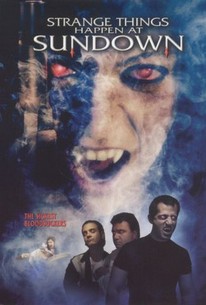 AUDIENCE SCORE
Critic Consensus: No consensus yet.
Strange Things Happen at Sundown Photos
Movie Info
A vampiric mobster, the bloodsucking lovers who stole his money, a thousand year-old assassin, and his virgin-slaying wife are all stalked by a powerful female vampire whose intentions are clouded in mystery. Jimmy Fangs is the kind of gangster you don't want to cross, especially after dark. As Jimmy sets about building the ultimate underworld syndicate, a pair of thieving vampire lovers hold up in a nearby hotel with his money and a voluptuous female who has been bound to the bed. Out on the streets, an undead assassin closes in on his prey while attempting to elude the one woman he fears most - his violently insane wife. But the mobster and the hit man aren't the only ones out for blood, because now a vinyl-clad woman with a murderous agenda is stalking everyone involved, and her powers are unrivaled even in the realm of the supernatural.
Critic Reviews for Strange Things Happen at Sundown
Audience Reviews for Strange Things Happen at Sundown
½
Dodgy-ish indie vampire movie. A gang of vampire mobsters are pissed off when a deal they made with someone goes sour when the guy takes off with the money. So they're after revenge but their crew starts getting killed and the supposedly badass vampire they hire has problems with his mental wife so it seems things aren't going to work out the way they'd hoped! For a very low budget horror this has some promising idea's, is disturbing at times and has a couple of decent performances to. It falls down at its attempts at comedy which occassionaly work but sometimes are far to over the top and in total contrast to the more disturbing scenes on offer and that makes the film feel weird and uneven. It also drags on far to long, it feels as if it should have been about 15-20 minutes shorter and that made it a bit of a relief when it finished. Still, a decent attempt and it has its moments. Could be worse, could be better.
Watched maybe half hour to hour of it. (2 hrs 15 minutes so the envelope said) Turned it off. I've seen better HOME movies than this. I think with a few others I could make a better movie than this. Not to mention the acting is questionable, It would give an insult to movies that get F's this is not even worth an F- ! but being that's the least amount grade.. I have to insult all the other F graded movies that are better than this. A little info.. Basically The Italian Vampire Mob.. UGH! OF what I watched was garbage The Movie Poster/dvd cover for it looked better! The description sounded more interesting but the movie doesn't seem to me to be the actual plot as what I watched in the movie. Those who 'like' this.. You are cursed to go blind. This is true Crap.
Kym (c my community profile) Ragarsson
Super Reviewer
Strange Things Happen at Sundown Quotes
There are no approved quotes yet for this movie.