Strays
(1997)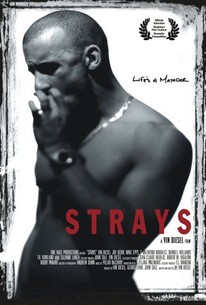 AUDIENCE SCORE
Critic Consensus: No consensus yet.
Movie Info
Rick spends his days as his friends do: selling drugs and committing petty crimes. He spends his nights at parties and having sleazy sexual encounters, longing for something meaningful -- which comes in the form of Heather. A romance develops, but Rick still struggles with pressure from his dual nature.
Critic Reviews for Strays
Audience Reviews for Strays
This film is interesting to say the least. I had never known Vin Diesel had started off as a director as well, and actually, I can say that he could really succeed if he buckled down. "Strays" is a good and a bad film at the same time, mimicking a similar style of an infamous early 90s film "Kids", yet it is not as effective as Larry Clark's Magnum Opus. Diesel plays his character well enough, though he really doesn't have much to emote in the first two acts of the film, the third portion is really what brings the whole production home, it is where the best writing, best acting, and most effective open-ened catharsis occurs that actually make the whole first hour worth while. The actors could have been a bit better, though they visually fit their parts, and the camera work could have been much better, especially because of the tight, uncomfortable framing of shots that really didn't need to be so pushed in. Entertaining, the good scenes outweigh the bad, not by much, but just enough. Slow moving but the pacing is correct for this type of film. If more effort was put into the direction, I think this really could have been a realistic and raw piece, more than just it's last part.
Matthew Roe
Super Reviewer
½
Good independent film. It was a bit slow at times but very realistic [if you've been to or live in NYC], and enjoyable. An inspired performance by Vin Diesel [who also wrote, directed, and produced this film]. It's basically about 4 friends who were raised without a father in their lives [hence the title Strays...Vin's character Rick basically gives up the meaning to the title of the film when he's talking to his girlfriend]. Vin's character Rick sells weed and even though he's never seen doing an actual job the entire film...he tells his customers that's it not how he makes a living. Rick is basically living in denial; as are some of the other main characters. It's not a crime-drama or an action flick or anything that you'd expect from Vin Diesel but it's still worth watching for the realism of the characters and the performances. If I go any further I'll give away too many details so I'll just say that overall it was a very interesting film with a good ending, and Vin Diesel should write and direct more films. "Life's A Matador"
Chosen 718
Super Reviewer
½
A pretty well made movie. Diesel is phenominal as the lead star, and he also wrote and directed this film. The transformation from a character and location piece (where its strongest) to a typical love story is an uneven transition, but once its there, its pretty well fleshed out. As said, Diesel gives probably his second best performance (with his first best being from "The Fast and the Furious", obviously) of his career, but a better ending would've made this an automatic recommendation. Instead, its just an okay movie. Here's hoping Vin makes a comeback, he's got talent, he just needs to utilize it to a lasting degree in Hollywood.
Dan Schultz
Super Reviewer
Strays Quotes
There are no approved quotes yet for this movie.