Strella (A Woman's Way)
(2009)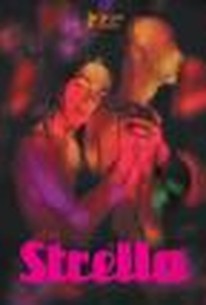 AUDIENCE SCORE
Critic Consensus: No consensus yet.
Strella (A Woman's Way) Photos
Movie Info
A man struggling to start his life over finds love under unexpected circumstances in this stylized drama from Greek director Panos Koutras. After serving fourteen years in prison, Yiorgos (Yiannis Kokiasmenos) is released and makes his to Athens, where he hopes to find the son he hasn't heard from in years. Checking into a cheap hotel, Yiorgos meets a woman named Strella (Mina Orfanou), who makes her living as a prostitute. Yiorgos and Strella end up spending the night together, and when he wakes up Yiorgos is confident he's found the woman of his dreams -- and isn't at all troubled by the fact Strella is a transsexual. With Strella by his side, Yiorgos feels confident he can mend his broken relationship with his son and make a fresh start, but it isn't long before he's confronted with a burden from his past he may not be able to shake. Strella (aka A Woman's Way) was an official selection at the 2009 Berlin International Film Festival. ~ Mark Deming, Rovi
Critic Reviews for Strella (A Woman's Way)
All Critics (1) | Fresh (1) | Rotten (0)
This provocative drama-comedy weaves elements from traditional Greek tragedies and myths through a decidedly modern story...Well-structured and -layered.
Audience Reviews for Strella (A Woman's Way)
A jaw breaking provocative drama weaves elements from traditional Greek tragedies and through some astonishing performances unfolds a decidedly modern story. There are twists in the story that would feel like slap in the face and if it had not been so controversial it could have won numerous awards for the subtle direction, a bold story and truly touching performances.
Nicolas Korovessis
Super Reviewer
½
Strella is everything a cinephile would want and more. Koutras lets Neil Jordan and his "Crying Game" bite the dust with this curious underground gem of his. The HUGE Oedipal complex that explodes in the middle of the film like a caleidoscope, under the lights of which one of the most daring erotic scenes in the Greek Cinema evolves, leaves the audience gasping as they swiftly consider the obvious ramifications. Strella is despite its gay theme a film you'd like to watch: because it is honest, daring, and ... because it has a script that is good enough and humaine enough to keep you satisfied. Compared to the standard commercial movies you watch, Strella is years of light ahead. Compared to "Kynodontas" (Dogtooth) another Greek film for the cinephile audience, "Strella" is simply Oscar material...
Anastasia Bartzoulianou
Super Reviewer
½
A masculine movie in spite of the exceptional twist somewhere in the middle,Koutras is evolving,leaving behind aliens and bourgeois salons,there's simply a bohemian state of free-spirited individuals (with a fine sense of rhythm in the frame by frame observance of the social status) alongside the neglect for but also the casualty of "strange" people. Orfanou playing the titular transsexual sparkles in her debut and Kokiasmenos presents a stiffed ex-inmate,beginning a chain reaction stretching to a (curiously enough) panegyric finale.
Dimitris Springer
Super Reviewer
Strella (A Woman's Way) Quotes
There are no approved quotes yet for this movie.