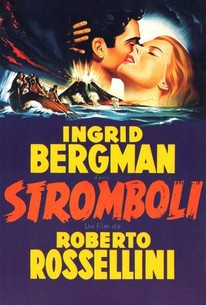 Stromboli
1950, Drama, 1h 21m
12 Reviews
500+ Ratings
Where to watch
Rent
Subscription
Rate And Review
Movie Info
Lithuanian Karin (Ingrid Bergman) flees her war-ravaged home country and winds up in Italy, where she's sent to an internment camp. There, she meets Antonio (Mario Vitale), a POW who's just been freed. They enjoy a brief romance, punctuated by Antonio's marriage proposal, and Karin, seeing her chance to escape the camp, accepts. But Antonio takes her back to Stromboli, the volcanic island he lives on, and Karin struggles with a language barrier, brutal living conditions and her outsider status.
Audience Reviews for Stromboli
Rossellini scandalized the United States with this excellent and daring drama about an unfortunate woman stuck with small-minded people on a volcanic rock, and it hits us with powerful scenes that are hard to be forgotten, like the horrific tuna fishing and the volcano explosion.

Ingrid's great fall from Hollywood's graces was spurred by this flat drama and her involvement with its director. I'm sure their marriage brought her more fulfillment than this turgid exercise in neo-realism does to the viewer.

Um dos pais do neo-realismo italiano, Roberto Rossellini atingiu o ápice de sua carreira ao retratar nas telas a face sofrida de sua amada pátria no período do pós-guerra. Com Stromboli¸ o diretor usou as lentes de sua câmera para retratar outro caso real, mas em menor escala: o drama da atriz Ingrid Bergman. Coincidentemente ou não, muito dos eventos do filme refletem o que a estrela de Casablanca, então companheira de Rossellini, enfrentava na época. Bergman chocou o mundo ao deixar seu marido para assumir o caso com o diretor italiano, o que a tornou persona não grata na América. Ela se mudou para a Itália onde fez seis filmes com Rossellini, dentre os quais Stromboli é o primeiro. Aqui Bergman interpreta Karin, uma jovem que, para fugir de um campo de concentração, se casa com um humilde pescador italiano (Mario Vitale) e vai morar na ilha vulcânica de Stromboli, ao norte da Sicília. Karin logo encontra uma série de dificuldades em sua nova vida, tendo que lidar com as barreiras do idioma e com a hostilidade do público local que a acusa de adultério - do mesmo modo que Bergman teve que se adaptar ao novo país e ainda fugir da perseguição da sociedade. As comparações não param por aí. Assim como sua personagem sai de um mundo de classe alta para uma vida de miséria ("de um extremo ao outro", como ela diz), a atriz também trocou os estúdios de Hollywood por filmes rodados em locações feitos sob baixos orçamentos. No final das contas, a mudança lhe foi positiva. A Ingrid Bergman dirigida por Rossellini se desarma de alguns artifícios melodramáticos que marcam certas atuações suas em filmes americanos, criando uma caracterização mais naturalista que vai ao encontro do estilo dos demais atores de Stromboli (em sua grande maioria não profissionais). A falta de maquiagem e de iluminação artificial apenas contribui para realçar sua beleza natural. Mesmo em um drama mais intimista, o diretor se mantém fiel aos dogmas do neo-realismo ao retratar a vida sofrida dos pescadores da ilha que, além da miséria ainda vivem sob a mercê da fúria da natureza. Ao lado do diretor de fotografia Otello Martelli, Rossellini captura em filme dois poderosos momentos: os pescadores exercendo seu ofício em alto mar e o poderoso vulcão em erupção. Mas no final das contas, o filme realmente pertence à Ingrid que, mesmo em um papel atípico e egoísta, não deixa difícil perceber o porquê de o diretor estar apaixonado por ela.
See Details