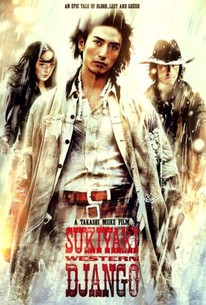 Sukiyaki Western Django
2007, Action/Western, 2h 0m
55 Reviews
10,000+ Ratings
What to know
critics consensus
Inventive and off-kilter, the newest feast from J-Horror director Takashi Miike is super-sensory, self-referential and somewhat excessive. Read critic reviews
Where to watch
Subscription
Rent/buy
Rate And Review
Sukiyaki Western Django Photos
Movie Info
Ever since the Genpei War a few centuries before, two clans have been fighting over a hidden treasure. The white-clothed Genji, led by Yoshitsune (Yusuke Iseya), refuse to allow the opposing clan, the Kiyomori warriors -- who wear red and are led by Kiyomori (Koichi Sato) -- to keep all the wealth for themselves. When a stranger comes to town, he says he'll join whichever clan offers him more money. But the stranger has a hidden agenda: He is out to seek revenge on behalf of a prostitute.
News & Interviews for Sukiyaki Western Django
Audience Reviews for Sukiyaki Western Django
An eccentric and often extremely entertaining flick from Mr. Miike. Quentin Tarantino's turn in the film is also a comedic highlight.

Jim Slotek (Jami Movies) put it quite well: Miike knows how to film cartoonish violence with style, and the sillier the movie becomes in its mayhem, the harder it is to turn away from. I enjoyed it overall. I found it excessive. Some of it was offensive. I'm glad I watched it on TV, so I could fast forward through some of the brutality. The visual style of the film is its strongest selling point, and like so much of Japanese cinema, it delivers repeatedly in this regard.

I was excited to see this film, since (in Japan, anyway) it was promoted as Miike's first collaboration with writer Masa Nakamura since the softly philosophical The Bird People in China. Plus, what arthouse fan wouldn't be interested in seeing Miike's stab at a Western? Well, he certainly pays the proper respects to Leone, Corbucci, and Kurosawa, but this film read like a style exercise with clever references, and nothing more. Making the curious decision to cast Japanese actors to speak English renders every annunciation and inflection awkward and disengaging. It's almost as if Miike wanted to keep the audience at bay, and in turn, his characters two-dimensional. Sure, there are some terrific shots and the production design is gorgeous, but unfortunately this is just another annoying "postmodern/revisionist" film that isn't meant to be engaged with, but is meant to be watched with a smug and hip ironic detachment. It's a film that is championed by "film people" who look around and say "Aren't I cool for laughing at this?" No, you're not. You're what's wrong with the industry today. If this analysis appears to be too critical or negative, look at which famous director makes an eye-rolling cameo in the opening scene: the poster child for hip, self-referential cinema and the man who has single-handedly killed film art forever, Mr. Quentin Tarantino. Miike is better than this.

Meant to be over the top and completely insane. It's also fun and entertaining. Just get past the engrish voice dubs and you'll be fine.
See Details