A Summer Story
(1988)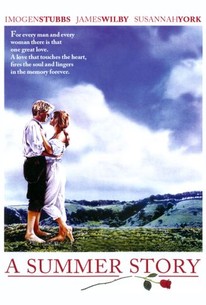 AUDIENCE SCORE
Critic Consensus: No consensus yet.
Movie Info
Set in rural England at the turn-of-the-century, this romantic drama follows the love affair between a farm girl and a London attorney. The trouble comes from the great difference in their social class.
Critic Reviews for A Summer Story
All Critics (4) | Fresh (3) | Rotten (1)
An enchanting movie for the whole family

An exquisitely beautiful and well-acted film which explores both the dizzying pleasures and the painful dangers of romantic love.

Spirituality and Practice
Audience Reviews for A Summer Story
So true, so sad, beautiful and truthful tale anyone could relate to IF you had a lost love. A story about free will and fate, both battle in this romance drama. Were it for a train schedule, this romantically involved stranger and villager would have married. Who knew? Least of all them. [img]https://encrypted-tbn1.gstatic.com/images?q=tbn:ANd9GcTYaOgt_or0L20g8NhdtnVVGcGKlgrEyDy_n6-USPTBjGP7q_sY[/img] That romantic encounter lost In 1922, a man recalls the love affair he enjoyed with a woman before the First World War. The film is based on the John Galsworthy story The Apple Tree. A Summer Story is a 1988 British drama film directed by Piers Haggard, with the script written by Penelope Mortimer, based on short story The Apple Tree by John Galsworthy. [img]https://encrypted-tbn3.gstatic.com/images?q=tbn:ANd9GcTBHblcLFybgFSt4hGdagd5Y5VV5-PnMkyksndAewR12cl9gL6E[/img] The moment they knew love Highly recommended for romanticist types and those that think fate has everything or nothing to do with living. For every man and every woman there is that one great love. A love that touches the heart fires the soul and lingers in the memory forever. SEE the trailer here: http://www.artistdirect.com/video/a-summer-story/54810 SEE the entire film here: https://www.youtube.com/watch?v=okCXu5XcYcQ REVIEWS by those like us: 1 What can I say about the movie, it's mesmerizing. Strongly recommended. Just go for it, worth an experience. 2 Too many people are missing a great story and a great movie. 3 Anyone whose ever loved and lost will feel what the characters are feeling in this film! It will make you cry aswell, otherwise you don't have a heart. ;-) 4 A precious, precious film. [img]https://encrypted-tbn3.gstatic.com/images?q=tbn:ANd9GcREtZgE1d91TvIFqLlHV1AdVagNKxY1ZW1RvsakDdOYE_kWIsL4TQ[/img] The unknown girl in the field was his Directed by Piers Haggard The films of Piers Haggard 1960s I Can't... I Can't (1969) 1970s Blood on Satan's Claw (1971) · The Quatermass Conclusion (1979) 1980s The Fiendish Plot of Dr. Fu Manchu (1980) · Venom (1981) · A Summer Story (1988) 1990s Conquest (1998) Produced by Danton Rissner Written by John Galsworthy Penelope Mortimer Music by Georges Delerue Cinematography Kenneth MacMillan Editing by Ralph Sheldon Release dates 11 August 1988 (New York City New York) Running time 95 minutes Country United Kingdom Language English [img]http://img.youtube.com/vi/pYCSU6Kqt7E/0.jpg[/img] Fate caused the love affair of a lifetime Cast James Wilby - Mr. Ashton Imogen Stubbs - Megan David Susannah York - Mrs. Narracombe Kenneth Colley - Jim Jerome Flynn - Joe Narracombe Lee Billett - Nick Oliver Perry - Rick Harry Burton - Garton Sophie Ward - Stella Halliday John Elmes - Mr. Halliday Camilla Power - Sabina Halliday Juliette Fleming - Freda Halliday Sukie Smith - Betsy John Savident - Bank Clerk Rachel Joyce - Post Office Girl [img]http://reasonandreflection.files.wordpress.com/2013/06/a-summer-story-pic.jpg[/img]
monsieur rick
A Summer Story Quotes
There are no approved quotes yet for this movie.
Discussion Forum
Discuss A Summer Story on our Movie forum!