Supervixens
(1975)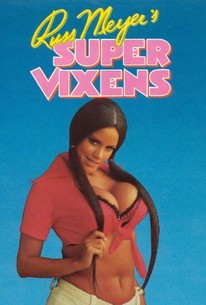 Movie Info
Russ Meyer once again airs his obsessions with huge breasts, violent revenge and escaped Nazi war criminal Martin Bormann in this highly perverse sex comedy/action thriller. Clint (Charles Pitts) is working at a gas station (run by none other than Martin Bormann, who was working as a bartender in Meyer's Beyond the Valley of the Dolls) when his wife is brutally murdered by Harry Sledge (Charles Napier), a cop with a deeply sadistic streak. Clint tries to bring Harry to justice while Harry attempts to frame Clint for the crime. In the meantime, Clint is constantly pursued by a variety of women with improbable names, voracious sexual appetites and bodies that make Pamela Anderson look like Kate Moss. More violent and less witty than many of Meyer's films, Supervixens features a villainous performance by Charles Napier, another from Meyer stalwart Stuart Lancaster and several typically cantilevered beauties, including Haji, Shari Eubank and Uschi Digard.
Critic Reviews for Supervixens
Audience Reviews for Supervixens
If anything can be said of Russ Meyer it's that he knew something of the American male psyche. Forget about conjecture or estimations or hypothesis or psychology or audience surveys or anything: put some big tits on the screen and American men will watch. Duh. And he fills the screen with 'em. There's a bit of the old ultra violence, too. On the side. Against the women. Mainly against the women. And that's about the whole show: "I hate my mommie. No, I love her. No, I hate her. No ..." You be the judge. You decide. What that says or means about this nation I've got no clue. I wanna be ignorant.
Kevin M. Williams
Super Reviewer
Not as bad as the crass title suggests, "Supervixens" has above-average acting (by Russ Meyer standards) and a fast-moving story. Of course, it includes Meyer's usual quirks. Spectacular bosoms. An arid, middle-of-nowhere location. And, weirdest of all, his incongruous love for patriotic marches. The episodic plot strains to feature as many gals as possible, but it's a relatively smooth ride. Handsome Clint Ramsey (Charles Pitts) works at a desert gas station, partnered with (seriously?) ex-Nazi Martin Bormann. At home, he has a jealous, curvy wife (Shari Eubank) who is so sexually demanding that fiery arguments result. If only we all had such problems. Like the rest of the film's beauties, her name (SuperAngel) has a silly prefix. Policeman Harry Sledge (veteran character actor Charles Napier) responds to a complaint about Clint's and SuperAngel's latest screaming battle and, once Clint skulks off to a bar, sparks fly between Harry and SuperAngel. The two soon head for the bedroom, but creepy Harry has potency problems (he apparently needs a taste of violence to become aroused). After SuperAngel ridicules his virility, he murders her in a rage. A spurned bartender (SuperHaji) sinks Clint's alibi out of spite, and Clint knows he will be blamed for the killing. He quickly cuts out of town on foot. From there, random twists of hitchhiking carry the story. His road adventures include a young driver with a horny girlfriend (SuperCherry); an older farmer with a horny Austrian wife (SuperSoul); a hotel manager with a deaf, black, horny daughter (SuperEula); and, finally, the horny owner of a gas station/diner (SuperVixen, again portrayed by Eubank). Poor Clint has more action than he can handle. That last woman could be his perfect match, but beware...Harry may return to seek revenge.
Eric Broome
Super Reviewer
½
"Supervixens" begins brilliantly but it sags a bit in the middle. The episodic section when Clint goes on the run after being framed by Harry for SuperAngel's murder, though undeniably entertaining, feels like its wandered in from another movie. Fortunately, things get back on track for the wonderfully over-the-top finale.
Supervixens Quotes
There are no approved quotes yet for this movie.