Suriyothai
(2003)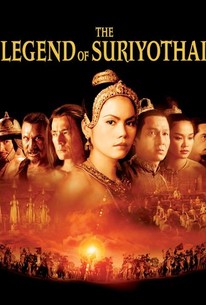 Movie Info
A crucial moment in the history of Thailand comes to life in this epic-scale historical drama, written and directed by Chatrichalem Yukol, a member of the Thai royal family. In 1528, Ayuthaya (the nation which would become Thailand) was divided into two kingdoms, north and south, and beautiful Suriyothai (M.L. Piyapas Bhirombhhakdi), a member of the southern kingdom's royal family, loves Piren (Chatchai Plengpanich). Early in her life, however, Suriyothai comes to the realization that her duty to the people of Ayuthaya outweighs her personal needs, and she instead weds Prince Tiren (Sarunyoo Wongkrachang), whose father is the ruler of the northern kingdom. After the death of Tiren's father, the king of the southern nation makes a bid for power by seizing control of the North, but he has chosen as his consort Srisudachan (Siriwimol Charoenpura), a woman with nefarious alliances, and soon the king and his queen are battling for control of Ayuthaya. As chaos reigns at home, the ruler of neighboring Burma, King Tabinshweti (Suphakit Tangthatswasd), sees this as a perfect opportunity to conquer Ayuthaya, and he soon leads his armies in a bloody invasion. With the leadership of the twin nations in tatters, Suriyothai bravely commands Ayuthaya's troops from atop an elephant in a final battle for freedom. Filmed on a budget of 11 million dollars, Suriyothai was the most expensive film ever produced in Thailand, and went on to become a massive box-office success in that country.
Critic Reviews for Suriyothai
Audience Reviews for Suriyothai
Great historical drama from Thailand, the America version was edited and presented by Francis Ford Coppola.
Anthony Valletta
Super Reviewer
Suriyothai Quotes
There are no approved quotes yet for this movie.