Suspicious River
(2000)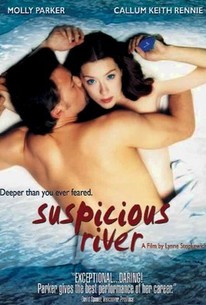 Movie Info
Leila Murray is a motel receptionist in a small Canadian town that is named after a muddy and fast-flowing creek: Suspicious River. Everything and everyone is waiting for a terrible and cold winter that will keep even the most dauntless indoors. But Leila spends her time wandering around in a flimsy dress as if she is challenging the cold, even if it does give her pneumonia. Leila's service to her quests goes further than checking in, for the price of a room, she offers herself too. Her lethargic husband has no idea; she hides the money she earns. She is saving it up, but she doesn't know what for. Until one day the attractive and helpful Gary stops at the motel. Leila is instantly infatuated with him, despite his dominant character. When he suggests they leave together, Leila thinks she has found a way out of her aimless life and will be able to chase after dreams she might not even cherish.
Critic Reviews for Suspicious River
All Critics (7) | Top Critics (2) | Fresh (2) | Rotten (5) | DVD (2)
You'll have trouble tracking down a more unwatchable movie this year
November 7, 2004 | Rating: 1/5
Another uniquely dazzling performance from Parker, in another unnerving tale from Stopkewich.
March 13, 2003 | Rating: 6/10
Audience Reviews for Suspicious River
At a roadside motel, Leila Murray(Molly Parker), a hotel receptionist, provides sexual services for guests, stashing the money in her shoe before she begins. While all of this is going on, her husband Rick(Joel Bissonnette) remains home unemployed and quite blissfully unaware. And all goes well until Gary Jensen(Callum Keith Rennie) punches her before forcing her to the floor. Afterwords, he apologizes for his rough actions. For the record, Leila's only friend seems to be the little girl(Mary Kate Welsh) down the lane who she talks with when sitting on a dock at the river while enjoying a cigarette. With Molly Parker's luminating and captivating presence raising it above the purely mundane, "Suspicious River" otherwise is not that different from many other cautionary tales, with its good(pregnant) girl/bad girl dichotomy amongst the motel receptionists.(In fact, "Stargate SG1" fans might find this movie the most disturbing.) As much as the movie aims for a psychosexual reading, I think it comes down to money more than anything else for Leila who is trapped by inaction. Otherwise, there is an 11th hour plot twist that while sort of making sense and tying everything together, is also something of a cheat.
Suspicious River Quotes
There are no approved quotes yet for this movie.