Swamp Thing
(1982)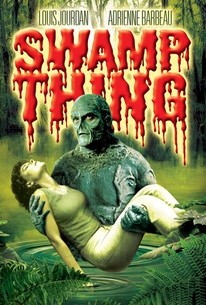 TOMATOMETER
AUDIENCE SCORE
Critic Consensus: Unabashedly campy -- often to its detriment -- Swamp Thing is not without its charms, among them Adrienne Barbeau as the damsel in distress.
Movie Info
Historia de suspenso escrita y dirigida por Wes Craven sobre el resultado monstruoso de un experimento fracasado. Louis Jourdan, Adrienne Barbeau, Ray Wise, Reggie Batts.
People Who Like this movie also like
News & Interviews for Swamp Thing
Critic Reviews for Swamp Thing
Audience Reviews for Swamp Thing
One of the better received and critically lauded films of Wes Craven's early career; "Swamp Thing" has a long and fortuitous history that I for one never could have foreseen. Originally a DC comic (eventually Vertigo Comic) of the same name, Swamp Thing was billed as an action film, starring the same characters from the comics. Craven has said that this was film was a send-up of the monster movies of the thirties and forties, including "The Creature from the Black Lagoon." The film is definitely more action than horror, containing far more scenes of boats launching off algae covered rocks than anything akin to monster movie magic. The story is set in the swamps of Louisiana, following a group of scientists who are working with plant life. Dr. Alec Holland (Wise) is heading the project, and has just found that he has discovered a way to grow plants on organic materials, including wood. Government agent Alice Cable (Barbeau) appears on the scene, wearing her heels and gender neutral clothing, and falls for the scientist. Inadvertently Dr. Holland is transformed into the mutated being of the swamp thing thanks to the raiding of the compound at the hands of Arcane's henchmen. Most of the film contains swamp thing taking care of the defenseless and frankly ignorant Cable, who keeps getting captured, or run down by boats, and the highly weaponized men atop them. Looking more like a cheap eighties horror film (which it is) than the action film promised, "Swamp Thing" still did surprisingly well with critics and even spawned a nineties television show. Still, there's nothing new or extraordinary about this underwhelming film, except maybe the crafted movie makeup of stuntman Dick Durlock; otherwise it's as trashy as it looks.
Spencer S.
Super Reviewer
A rather embarrassing film that offers nervous chuckles as it's biggest form of entertainment. With someone like Wes Craven, I expected at least a bit of suspense or terror. Instead I got a slapstick comedy that wasn't very funny. Luckily my love of monsters, bad movies, and the character in general, made me enjoy it enough. There are some great things. A badass female scientist puts up a fight before being taken. A large lumbering villain has a soft heart etc. It's just all too familiar, and the suit is atrocious for any age/budget. It just looked like one big human sized green condom with a face. By the end, we see Swamp Thing fight against a big ginger pig monster wielding a sword. At this point is seems like the film goes undirected.
Luke Baldock
Super Reviewer
An interesting monster movie, a little late on the scene, monster movies weren't so popular anymore in the 80s I don't think. It's not bad, but it's not good either.
Swamp Thing Quotes
There are no approved quotes yet for this movie.
Discussion Forum
Discuss Swamp Thing on our Movie forum!