Swing
(2002)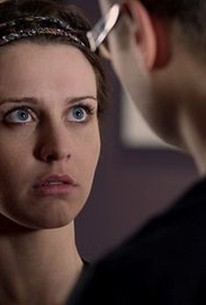 Movie Info
Max is on holiday at his grandmother's place in the Elzas in France. He's fascinated by the guitarplay of gipsy Miraldo. For writing letters to the social security institutes he gets guitarlessons from Miraldo. He becomes friends with Swing, a boyish gipsygirl, who shows him the nature and takes him to exuberant mucic evenings.
Audience Reviews for Swing
This hotchpotch of coming-of-age comedy-drama and gypsy culture is not trite and tacky because the director Tony Gatlif - Gypsy himself - has a rare gift for transferring in a movie magic most banal of situations whilst conveying his passion for the gypsy way-of-life. Do not expect anything profound in Swing - it is one of the simplest and most honestly directed movies with beautifully composed scenes... Max (Oscar Copp) is first seen timidly venturing into the gypsy neighbourhood of a small Alsace town, intent on buying a guitar. He's staying with his grandmother for the summer, and has fallen for the exuberant jazz played by French gypsies since the 30s, when it was made famous by the guitarist Django Reinhardt. He meets a gypsy girl named Swing (Lou Rech) and falls in love, while taking guitar lessons from her uncle (Tchavolo Schmitt). Director Tony Gatlif has devoted his career portraying the hardship of the European Gypsies and in this film you will find some parts with documentary feel - including one where gypsy musicians work out a synthesis of their own music with Arab and Yiddish styles... "Because your heart hasn't burned with love, because you've never been love's slave, your heart hasn't experienced the secrets of love... You will never know the secrets of the hereafter, you will never know the uniqueness of being one!" If in your heart there is a soft spot for unspoiled music this film will be your choice! The balance of Gatlif's pictures with sounds was perfectly composed in the innocent romance between Max and Swing, played out in her family's caravan, on the industrial fringes of the town, and in the forests outside.
Swing Quotes
There are no approved quotes yet for this movie.