Swing Shift
(1984)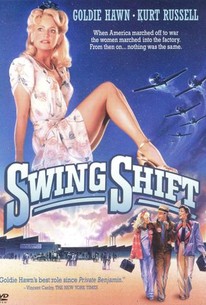 Movie Info
Director Jonathan Demme made one of his more conventional movies with Swing Shift, an examination of life on the American home front during WWII. Goldie Hawn, who also served as the film's producer, stars as Kay, a woman who takes a job on the line at a plant producing war planes after her husband goes off to fight in Europe. One of her coworkers is her best friend Hazel, played by Christine Lahti, whose performance earned an Oscar nomination and a New York Film Critics award. Kay falls in love with another coworker, Lucky (Kurt Russell), who couldn't enlist because of a weak heart. Kay's husband Jack (Ed Harris) comes home on leave and finds out that his wife has betrayed him. Lucky then decides to pursue Hazel, driving a wedge between the two best friends.
News & Interviews for Swing Shift
Critic Reviews for Swing Shift
Audience Reviews for Swing Shift
Nice period feeling and an interesting premise that doesn't get a lot of attention, womens role in the workplace during WWII. They should have focused on that and left the weak love story out and would have been a better film. The other problem is that Goldie's and Russell's characters are not really people you feel much empathy for, she's spoiled and selfish and he's really rather a jerk. Christine Lahti however steals every second she's on screen and has the character you care about the most.
Goldie Hawn, Kurt Russell and Christine Lahti shine in their portrayal of those left behind to build the US war machine while the able-bodied men are off fighting WWII. Ed Harris and Holly Hunter co-star as Goldie's husband and co-worker, respectively.
Swing Shift Quotes
There are no approved quotes yet for this movie.