Sword of the Beast
(1965)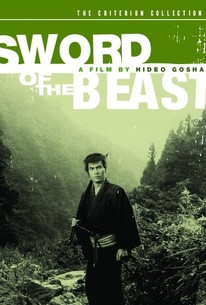 AUDIENCE SCORE
Critic Consensus: No consensus yet.
Sword of the Beast Photos
Movie Info
A man of honor struggles to regain his good name after being exiled to the wrong side of the law in this period drama from Japan. Gennosuke (Mikijiro Hira) was a loyal swordsman hoping to gain a position of power in his clan when he killed a man on orders of one of his superiors. After committing the foul deed, Gennosuke discovers he's been betrayed by his masters; bitter and disillusioned, Gennosuke becomes a ronin, a samurai without a ruler, and pledges to wander the Earth like an animal. While on the run from his former associates, Gennosuke falls in with a band of outlaws who are poaching gold that belongs to the shogun. Among the criminals, Gennosuke discovers a man who may be able to restore him to a position of respect, but the ronin discovers the man is not to be trusted, a situation that becomes all the more complicated when he becomes infatuated with his wife. Sword of the Beast (aka Kedamono no ken) was the second feature film from Hideo Gosha, who went on to become one of Japan's leading directors of samurai cinema. ~ Mark Deming, Rovi
Critic Reviews for Sword of the Beast
There are no critic reviews yet for Sword of the Beast. Keep checking Rotten Tomatoes for updates!
Audience Reviews for Sword of the Beast
Sword of the Beast by Hideo Gosha is a samurai film taking place almost entirely outside in a forest atop a mountain where gold is located. The lush landscapes add a beautiful and timeless backdrop against a wonderful story of betrayal and lost honor. Mikijiro Hira (13 Assassins was a recent Miike film he starred in). plays Gennosuke and infuses his character with all the attributes of the wild beast he has become, yet still retains honor and his humanity in the end. The story is a complex and layered piece that involves several characters and the involvement of Gennosuke which in one way or another helps him to find his honor once again. The film is filled to the brim with stunning battles and duels, all of which seamlessly take place in the wilderness and add a real artistic beauty to the action. This is truly a masterpiece of samurai and Japanese cinema!
Chris Browning
Super Reviewer
½
[font=Century Gothic]With striking black and white cinematography, "Sword of the Beast" starts out with Gennosuke(Mikijiro Hira), a ronin, on the run after killing the clan counselor. A conjugal visit quickly turns into a trap, but he makes his escape. His next escape requires a little help since his pursuers have enlisted a lot more help. Gundayu(Takeshi Kato) has dreams of panning for gold on a mountain with Gennosuke working as his bodyguard. The only problem with this is that the gold is under the protection of the shogunate and anybody caught taking it will be decapitated.[/font] [font=Century Gothic][/font] [font=Century Gothic]At that point, "Sword of the Beast" gets a little muddled as it shifts gears away from being a pure chase movie, introducing a handful of major characters on the fly.(By comparison, the movie stops at the beginning to introduce Gennosuke and his pursuers individually.) By the end, everything has come together in a satisfying climax.[/font] [font=Century Gothic][/font] [font=Century Gothic]The movie is set in 1857, just after Commodore Perry has paid a visit to Japan, as the old status quo is starting to fall apart, replacing it with upward mobility.(Of note is the large role that women play in this movie which is unusual for a samurai film.) At the same time, the movie wonders if this is automatically a good thing.[/font]
½
A nice little mid-sixties Samurai film. Nothing I haven't seen before, but the fight choreogrophy is better than a lot of its contempuarys. Its like a Samurai Bonnie and Clyde, sort of.
Sword of the Beast Quotes
There are no approved quotes yet for this movie.