Sybil
(1976)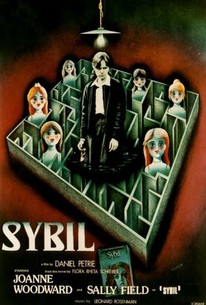 AUDIENCE SCORE
Critic Consensus: No consensus yet.
Movie Info
Based on a true story, Sybil is a made-for-television film about a young woman (Sally Field) who developed 17 distinct, separate personalities due to a traumatic upbringing. With the help of a psychiatrist (Joanne Woodward), Sybil manages to return to sanity. Field won an Emmy for her portrayal of the title role.
Audience Reviews for Sybil
Apparently I was attracted towards the movie for it being based on a real life event, only to realize later that it actually may not have been. Anyway, I'm not in the mood of suing anyone. Besides, I'm satisfied by the piece put together more than less. The disorder was presented quite realistically, only if it was for too many identities to reveal. Sally Field portrays the character masterfully, and she earned her Emmy award for it. Woodward playing Dr. Wilbur cum keeper cum detective was where I found it being fishy (however, not the only instance for that matter). The main attraction, for me, was Mattie. Barlett was very rightly chosen for the evil character carrying an incredibly scary face. This was no horror movie, but the look/make-up of her face (including her genuine smile) and her performance were terrific enough to leave a terrifying effect in one's mind. All in all, it's worth a watch, provided you've time enough for it (I ignored it for over a month due to its runtime exceeding 3 hours).
familiar stranger
Super Reviewer
Sybil: Don't you dare tell, or I'll fix it so you ain't got nothin' to tell with.  Sybil is a movie that definitely has that tv feel to it. It isn't overly well made and is not an incredible movie on the subject. But the subject is extremely interesting and that is what makes the film watchable throughout. Sally Fields does a good job playing a variety of personalities through one person. The story is the true story of a woman whose childhood was so awful that she had to escape into other personalities. We see a few of them in the movie, but it is known that there were at least 13 of them. We slowly learn why Sybil is the way she is as she does. A psychiatrist makes her remember all of the horrible things that happened to her as a child in order for her to get better. I would like to see a new movie made on Sybil's life. A movie that goes deeper into her personalities and her childhood, that isn't made for tv. But being that this one is a made for tv film, it isn't all that bad.
Melvin White
Super Reviewer
½
Excellent performance by Sally Field!
Jameson Worley
Super Reviewer
Sybil Quotes
There are no approved quotes yet for this movie.