T-Rex: Back to the Cretaceous
(1998)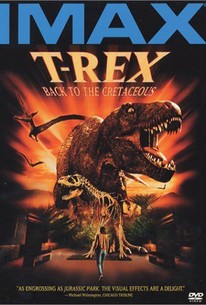 T-Rex: Back to the Cretaceous Photos
Movie Info
Brett Leonard directed this 3-D Imax short feature (running 45 minutes) about a famous paleontologist's teen daughter, who's able to enter into the world of the dinosaurs. In Alberta, Canada, Dr. Donald Hayden (Peter Horton) and his assistant Elizabeth (Kari Coleman) find a Tyrannosaurus egg. Donald's daughter Ally (Liz Stauber) hopes the egg will prove her theory that dinosaurs were ancestors of present-day birds. Back at their museum, Ally knocks the egg on the floor, loosening some strange dust. At night, a T-rex skeleton springs to life, and Ally discovers she can use museum exhibits as a springboard for time travel, encountering famed dinosaur illustrator Charles Knight (Tuck Milligan) and paleontologist Barnum Brown (Laurie Murdoch). She also sees a flying Pteranodon, an Ornithomimus and other creatures -- which all become extinct in the meteoric conclusion.
Critic Reviews for T-Rex: Back to the Cretaceous
Audience Reviews for T-Rex: Back to the Cretaceous
½
This film is good, the story is telling about T-Rex.
Steven Vincent Gee
Super Reviewer
T-Rex: Back to the Cretaceous Quotes
There are no approved quotes yet for this movie.