Tabu
(2012)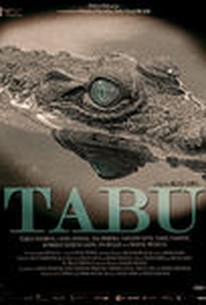 Movie Info
Acclaimed director Miguel Gomes returns with a sumptuous, eccentric two-part tale centered on Aurora, shown first as an impulsive, cantankerous elderly woman in present-day Lisbon. When Aurora is hospitalized, she sends her neighbor, Pilar, to pass word of her grave condition to Gian Luca, a man of which no one has ever heard her speak. Pilar's quest to fulfill her friend's wish transports us to Africa fifty years earlier, before the start of the Portuguese Colonial War. We see Aurora again, this time as the gorgeous, smoldering wife of a wealthy young farmer, involved in a forbidden love affair with Gian Luca, her husband's best friend. Their moving, poetic tale is conveyed through the older Gian Luca's suave voiceover, combined with the lush, melodious sounds of its heady, tropical setting, peppered with a soundtrack of Phil Spector songs. -- (C) Official Site
People Who Like this movie also like
News & Interviews for Tabu
Audience Reviews for Tabu
With a gorgeous black-and-white cinematography and an impressive thematic rigor, this is a welcome surprise of tremendous poetry, a film that confronts frustration and memory as a lyrical homage to silent movies accompanied by a haunting narration.
Carlos Magalhães
Super Reviewer
After a lonely old woman dies in Lisbon, her ex-lover tells of their tempestuous affair in colonial Africa in a dialogue-free flashback. The second half of the film is a stylistically appealing melodrama, but the first hour is slow, emotionally flat, and basically unnecessary.
"Tabu" starts with Pilar(Teresa Madruga), a middle aged woman, watching a period piece about a tropical explorer who kills himself after being confonted by a ghost. In real life, she is stood up at the Lisbon airport by a young Polish woman she was hoping to host. That leaves her plenty of time to cope with Aurora(Laura Soveral), her elderly neighbor, after Santa(Isabel Cardoso), Aurora's maid, alerts her to her going to a casino where she promptly loses all of her money before possibly pawning her furs for a return trip. Pilar is in charge because Aurora's grown daughter made only a hasty visit when she returned to Portugal for the holidays to visit her husband's family. "Tabu" is a beguiling allegory about how Portugal deals, or does not deal with, its colonial past, as the past seems insistent on returning to haunt the present. For example, Aurora is not merely going senile but becoming her younger self again.(That might explain a crocodile making an appearance in both the prologue and the second half. Or maybe the director just likes crocodiles.) By contrast, Santa and Pilar seem intent on breaking such a cycle; Santa by reading 'Robinson Crusoe' while Pilar takes up various forms of activism. As time moves day by day in the present and by the month in the past, both have a lovely colorless dreamlike intensity while the past has sound effects, musical numbers but no dialogue. At least in Portugal, they take down their Christmas decorations in a timely fashion.
Tabu Quotes
There are no approved quotes yet for this movie.