Tarzan Escapes
(1936)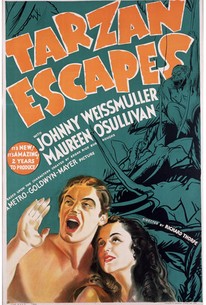 Movie Info
Produced under the working title The Capture of Tarzan, Tarzan Escapes was completely refilmed before release, eviscerating several blood-curdling sequences involving killer pygmies, torture murders and vampire bats. Wearing considerably more clothing than in 1934's Tarzan and His Mate, Tarzan (Johnny Weissmuller) and Jane (Maureen O'Sullivan) have taken up residence in their gadget-laden treehouse, replete with animal-powered elevator. Two of Jane's British relatives (Benita Hume and Willam Henry) come calling, together with an underhanded hunter (Hugh Buckler) who plans to kidnap Tarzan and put him on display in London. The Lord of the Jungle is briefly subdued, but escapes just in time to rescue Jane and her family from hostile natives, who practice the jolly ritual of spread-eagling their victims between two bent trees, then splitting the unfortunates in two (a harrowing but tastefully filmed sequence, later excerpted in 1941's Tarzan's Secret Treasure). Other than this grisly finale, Tarzan Escapes was strictly family fare. The familial aspects of the film extended into the film's credits; among the screenwriters were John Farrow, husband of leading lady Maureen O'Sullivan, and Cyril Hume, brother of supporting actress Benita Hume. ~ Hal Erickson, Rovi
News & Interviews for Tarzan Escapes
Critic Reviews for Tarzan Escapes
Audience Reviews for Tarzan Escapes
½
If it's not broke, then don't fix it, so the saying goes, and MGM knew where their golden egg was. And so this, the 3rd in the series features all of the elements the public loved in the continuing ERB story a boy raised by apes who becomes king of the jungle. So there's oodles of vine-swinging, plenty of fights with exotic animals, treacherous "civilized" whites, hordes of bloodthirsty savages, as well as some "innocent" water frolic-ing and, of course, the famous yell. Jane considers returning to England temporarily is the source of the conflict here. Cheetah provides humor and a saving-the-day or two. "Cheetah! Uum-gow-wah!!"
Kevin M. Williams
Super Reviewer
Tarzan Escapes Quotes
There are no approved quotes yet for this movie.