Teen Titans Go! To the Movies
(2018)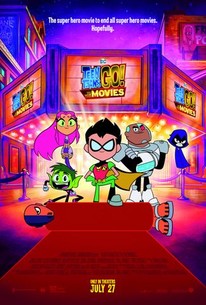 TOMATOMETER
AUDIENCE SCORE
Critic Consensus: Teen Titans Go! To the Movies distills the enduring appeal of its colorful characters into a charmingly light-hearted adventure whose wacky humor fuels its infectious fun -- and belies a surprising level of intelligence.
Teen Titans Go! To the Movies Videos
Teen Titans Go! To the Movies Photos
Movie Info
When the Teen Titans go to the big screen, they go big! "Teen Titans GO! to the Movies" finds our egocentric, wildly satirical Super Heroes in their first feature film extravaganza - a fresh, gleefully clever, kid-appropriately crass and tongue-in-cheek play on the superhero genre, complete with musical numbers. It seems to the Teens that all the major superheroes out there are starring in their own movies everyone but the Teen Titans, that is! But de facto leader Robin is determined to remedy the situation, and be seen as a star instead of a sidekick. If only they could get the hottest Hollywood film director to notice them. With a few madcap ideas and a song in their heart, the Teen Titans head to Tinsel Town, certain to pull off their dream. But when the group is radically misdirected by a seriously super villain and his maniacal plan to take over the Earth, things really go awry. The team finds their friendship and their fighting spirit failing, putting the very fate of the Teen Titans themselves on the line!
News & Interviews for Teen Titans Go! To the Movies
Critic Reviews for Teen Titans Go! To the Movies
Audience Reviews for Teen Titans Go! To the Movies
Okay, yeah, a movie for the younglings (yes, I still find that funny, so sue me), but if, as an adult, you feel prepared for an hour or so of silliness poking fun at the uber-seriousness of most caped crusader epics, then you can't find much that is as good as this juvie-but-loving-it take. Robin worries that no one thinks of him as anything more than a joke and thus conjectures that a movie deal will increase his respect factor. So many jokes that if there's a bad one it's quickly forgotten. I really enjoyed the bad guy too.
Kevin M. Williams
Super Reviewer
½
While not quite on the level of The Lego Movie, this film really balanced a smart plot filled with tons of meta-humor with funny childish bits. The writers did a good job developing a decent plot and packing in tons of jokes throughout the film, most of which land. Any comic book fan of any age can enjoy this film.
Sanjay Rema
Super Reviewer
A relentlessly funny, frenetic and pleasingly 2-D superhero satire, full of jokes any persons of any age can fully appreciate. It pokes fun at the DC and Marvel universe even critiquing the sheer volume of films made about superheroes. For those who are jaded by these films, these jokes landed hard. While predictable in plot and featuring its share of lowest rung jokes, albeit cleverly done ones, Teen Titans Go! to the Movies is a massive surprise, and might even make the diehard fans of the original show happy, despite the mixed feelings towards the Go! show. My funny bone was tickled more frequently than in any other film this summer and these characters will seem like old friends by the end credits. Bring on another one! Rating: 81
Teen Titans Go! To the Movies Quotes
There are no approved quotes yet for this movie.