Teenagers from Outer Space
(1959)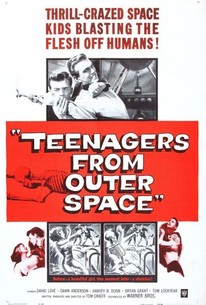 Teenagers from Outer Space Photos
Movie Info
Creatures from outer space come to Earth after searching the universe for an ideal home. Their mission is to find grazing territory for their livestock of gargons. The gargons are crab like land crustaceans that grow as big as a house in a day. Naturally, they find humans more appetizing than grass, and a good alien helps the Earthlings battle the evil forces with their disintegrating ray gun.
Critic Reviews for Teenagers from Outer Space
Audience Reviews for Teenagers from Outer Space
Looking so 1950's it could easily be a parody of the 50's, this unbalanced act is like the picture you took by accident that turned out better than you thought it would. Cheap props, cheaper sets, costuming by that loner goth friend you know that took sewing in school for one half a semester, horrific writing, bad acting, and yet ... this thing has it's moments (if only to make you consider solely eating lobster).
Kevin M. Williams
Super Reviewer
The new MST3K Netflix original has been released and I decided to expose myself to some of the old episodes available for streaming on Hulu and Netflix (there is a different random selection on each platform). Whether it is Joel or Mike watching these awful movies with the bots I do not envy the torture they are put through. Their snarky comments add some entertainment value, but my ratings are based on the movie's quality itself and not the extra material broadcast from the satellite of love. Ridiculous. A race of aliens who are all teenagers? Or the teenagers are the only ones sent to Earth to conquer it? Some goofy enjoyable moments, but mostly goofy terrible moments. One alien who blends in with humanity is sympathetic toward Earthlings and attempts to stand against his fellow invaders.
Byron Brubaker
Super Reviewer
I half liked this movie and half didn't like it. The story is interesting even though it's cheesy, but it gets less interesting as it goes on. Overall, it's just okay.
Teenagers from Outer Space Quotes
There are no approved quotes yet for this movie.