The Temptress
(1926)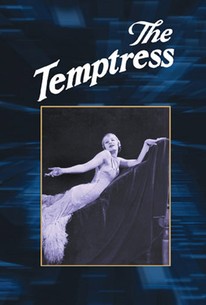 AUDIENCE SCORE
Critic Consensus: No consensus yet.
Movie Info
The Temptress was Greta Garbo's second American film, and while it may strike modern viewers as excessively melodramatic, Garbo is always worth watching. The star plays Elena, the wife of Monsieur Canterac (Lionel Barrymore) -- and the mistress of rich Parisian banker Monsieur Fontenoy (Marc MacDermott). When the banker's Argentine friend Robledo (Antonio Moreno), a dynamic young engineer, pays a visit to Paris, the fickle Elena immediately falls in love with him. Upon learning that Fontenoy has lost his fortune, Elena dumps him and returns to her husband, whereupon the banker kills himself. Evidently not content with ruining one life, Elena heads to Argentina and goes to work on Robledo, leading to a bloody whip duel between Robledo and his rival Manos Duros (Roy D'Arcy). Inevitably, Elena drives Robledo to perdition and indirectly causes the destruction of the magnificent dam upon which he has worked all his life. Banished from Argentina, she returns to Paris, where she spends the rest of her days as a seedy streetwalker. At least, that was the ending of the European version of The Temptress. The American version incredibly ends happily, five years after the above-described events, as Robledo and the reformed Elena triumphantly supervise the opening of his now-repaired dam! Initially, the film's director was Garbo's mentor-lover, the brilliant Mauritz Stiller, but he was replaced halfway through by the competent but uninspired Fred Niblo -- and the finished picture shows this division of interests all too clearly.
Audience Reviews for The Temptress
½
Well, I wasn't too impressed with this movie, but I didn't get to see it all because the DVD wasn't working right! Anyway, this movie seems to be an exotic adventure and a tragic romance story, which is interesting, but I found the characters kinda dull. Maybe I'll see this again someday, and I'll get to see the end.
"the temptress" is greta garbo's first american movie which sets off her iconic image of silent vamp in united states. garbo's insoucient manners have some tint of ethereal melancholy which fundamentalizes her tragic diva status, anchored by a thick aura of fatalistic helplessness as lovers're always doomed to aching love without eternality in her screen romances. garbo plays the tempress who is a dame philandered by her spineless husband to pay debts. then she falls heads over heels in love with a handsome stranger in a flowery garden under the silvery stars. then next day her lover discovers her despicable infidelity as the traded woman, so he departs with loathing hatred. but destiny leads her again to his side and she still captivates everyman under her spell with her striking beauty. however, wherever she arrives, fatal ruin befalls upon men as helen could wreck troy despite her eyes only cast upon one man who despises her. "the temptress" is a great exemplification of the intimidating empowerment of feminine allure as men fear women's charm since bible depicts dalliah betrays samson, also as adolescent boys scare to be devoured by the virgina vendetta. (pardon.) woman descends as the fault-blamer who catalysizes doom with misogynistic distrust. somehow female remains as the reluctant puppet of karma with irrevalent detachment as men bleeds to vie for her one sensuous regard. inevitably the female's got to commit an extrene masochistic deed to redeem herself and the sacredness of her love to the man as he collapses under her skirt. garbo shall be the otherworldly incarnation of femme fatale, and her sultriness is never so evident as in "the tempress", clouded with a mythical fable-alike atmosphere as the backset is filled with expressionistic sceneric art. in her state of "silentness", garbo's sensuality is shredded with intense enigma as if you're observing a mythological tale with ideological archetypes. the essence of woman's genuine fairness is as fragile as flower, you wanna pluck the blossom then after inhaling its fragrance, you secretly wish to tramp it beneath your feet, so transiet so vulnerable. the pinnacle of tragic aesthetism could only be accomplished as the female protagonost selects the path of self-ruin to gratify your appetite for destruction. melodramaticity, indeed. as wordsworth remarks that poetry is the overflown state of emotions as one smolders in his maxium of sentimentality. (correct me if i quote it wrong). the carthesis is enlightened as the audience escalates into the pitch of drastic plot twists. that was cinema or entertainment in old days, a form of extinguished art.
Veronique Kwak
Super Reviewer
The Temptress Quotes
There are no approved quotes yet for this movie.