The Mummy Theme Park
(2000)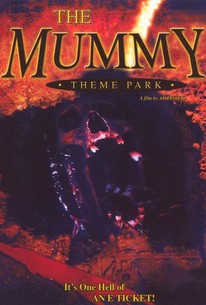 AUDIENCE SCORE
Critic Consensus: No consensus yet.
Movie Info
When a pair of American photographers (Adam O'Neal and Holly Laningham) heads to Egypt to help publicize the opening of an underground mummy theme park, they've no idea that the computerized attraction is cursed. The animatronic mummies are real, and no one is safe from their bloodthirsty wrath when the curse kicks into action. Cyrus Elias, Helen Preest, Peter Boom and Paola Real also star in this Italian-made horror film.
Critic Reviews for The Mummy Theme Park
There are no critic reviews yet for The Mummy Theme Park. Keep checking Rotten Tomatoes for updates!
Audience Reviews for The Mummy Theme Park
"The Mummy Theme Park" is the best unintentionally bad film since "Birdemic"! The combination of terrible dialogue, obvious green screens, pointless plot, and awful voice dubbing makes for a great laugh. First, there is the issue of the film's title... There is not a single rollercoaster in this film! Since it is an Italian film (spoken in English), something must have gotten lost in translation. This film was doomed from its opening credits but it would have been a lot more interesting with a mummy attack on a rollercoaster. Then there is the issue of the script. When one of your high-impact lines is "It's time to put this skeleton back in the closet!" you have to wonder what the writers were thinking. And my favorite aspect of the film: this is the worst voice dubbing since "The Room." Even the sound effects are incorrectly dubbed! The dubbing of Holly Laningham's voice is absolutely hysterical. She sounds like a Disney princess voice trapped in a horror film. "That's quite a name you've got there..." Her voice paired with the corny dialogue is so awful that it's delightful. And the chick fight on the train? Hysterical. "The Mummy Theme Park" isn't very scary and it certainly isn't very good; and yet, it's impossible to deny the sick pleasure that can be derived from watching these actors fail onscreen over and over again.
Jonny Priano
The Mummy Theme Park Quotes
There are no approved quotes yet for this movie.
Discussion Forum
Discuss The Mummy Theme Park on our Movie forum!