The 5,000 Fingers of Dr. T
(1953)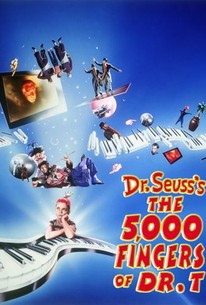 The 5,000 Fingers of Dr. T Photos
Movie Info
Ted Geisel, better known as Dr. Seuss, wrote and helped design this eccentric fantasy about a young boy named Bart (Tommy Rettig) who, like most young boys, doesn't enjoy his piano lessons with the mean-spirited Dr. Terwilliker (Hans Conried). He figures his time would be better spent playing baseball with his friends or helping his grown-up buddy Arthur Zabladowski (Peter Lind Hayes), a plumber. One night, while fast asleep, Bart has a long and remarkable dream in which he's trapped in the kingdom of the fearsome Dr. T, who has enslaved hundreds of little boys, forcing them to practice on the world's largest piano until they drop. With the help of a friendly plumber, Bart plans a revolt that will topple Dr. T's evil empire once and for all. The 5,000 Fingers of Dr. T also features several songs for which Geisel contributed lyrics. ~ Mark Deming, Rovi
Critic Reviews for The 5,000 Fingers of Dr. T
Audience Reviews for The 5,000 Fingers of Dr. T
Some creative visual live-action flourishes, but Dr. Seuss's work is better illustrated or animated. Contains what might be the oddest musical number ever, The Dungeon Song, with actors/dancers in badly painted green body paint playing Dr. Seuss style nonsensical instruments. The filmmakers attempt a Fantasia sort of extravaganza but the budget serious holds the production back. None of the other musical numbers became hits either. Dr. T (Conreid) plays a flamboyant piano teacher who forces 500 boys to rehearse. Bart (Tommy Rettig), in particular, would rather be outside playing with his dog. Rettig is amusing in breaking the fourth wall and talking to the audience. Most of the movie exists in Bart's mind as a fantasy nightmare. The movie would be unbearable if Rettig were not the lead. Real life couple Hayes and Healy play a kindly janitor and Bart's mom, respectively. Bart hopes his mom will choose the caring janitor rather than the dictatorial piano teacher. Unfortunately, all three adult leads leave a lot to be desired as they prance around this technicolor set. They simply never completely fill the massively open and empty sets with their voices or dancing.
Byron Brubaker
Super Reviewer
½
A boy dreams he and his mother are trapped in a dream world ruled by evil piano teacher Dr. Terwilliger, who plans to enslave 500 boys to play his giant piano. Despite writing the story and libretto, Theodor Geisel (the Philistine!) notoriously hated this Technicolor spectacle, but you'll love the fantabulously surreal Seussian set design with its curved keyboards, ladders to nowhere, and roller-skating Siamese twin guards linked by their beards.
½
This is an odd movie, but it's based on a Dr. Seuss book, so this movie does a good job representing that. Overall the style is good, but the actors and songs aren't so great.
The 5,000 Fingers of Dr. T Quotes
There are no approved quotes yet for this movie.