The Antichrist
(1974)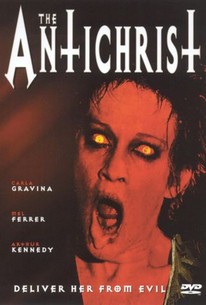 AUDIENCE SCORE
Critic Consensus: No consensus yet.
Movie Info
Don Massimo (Mel Ferrer) is a nobleman of ancient lineage. For some time he has been having an affair with the lovely Gretel (Anita Strindberg), and his crippled daughter Ippolita (Carla Gravina) is not only aware of the relationship, but disapproves of it in ways which lead him to call for the services of a psychiatrist. The psychiatrist discovers that Ippolita is acting out a family curse from her ancestress, a noblewoman who was burned at the stake as a witch. At this point, the powers of the Church are called on, and the Bishop (Arthur Kennedy) is required to decide how Father Mittner (George Coulouris) and he will conduct an exorcism.
Critic Reviews for The Antichrist
All Critics (4) | Fresh (0) | Rotten (4)
Now von Trier's trying his hand at the horror porn genre without abandoning the genital close-ups, making Antichrist a sort of horror porn squared.
O único elemento que merece elogios, nesta cópia patética de O Exorcista, é a bela Carla Gravina; o resto deve ser exorcizado de nossas memórias.
February 9, 2005 | Rating: 1/5
It involves Satan, a possessed woman's tongue and a billy goat's butthole. Again, the distinction between scary and unpleasant becomes revoltingly clear.
Audience Reviews for The Antichrist
½
An enjoyable but dated and cheesy Italian "Exorcist" rip-off. It doesn't have the exact same story as The Exorcist but it borrows heavily from it but without managing to be as scary or chilling and a lot of its attempts to be so end up being quite funny, particularly the obscene language. The effects haven't aged well, especially the optical effects, but there's effort been put into it and for its day it isn't a bad film considering its budget. It's well shot, has a good central performance and an effectively moody and atmospheric score. The film starts off slow but gets better as it goes along. Not that effective as a serious horror movie anymore though.
The Antichrist Quotes
There are no approved quotes yet for this movie.