The Autobiography of Nicolae Ceausescu
(2011)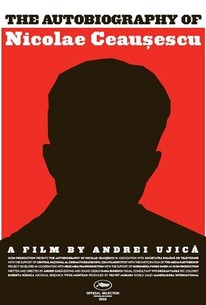 The Autobiography of Nicolae Ceausescu Photos
Movie Info
"After all, a dictator is simply an artist who is able to fully put into practice his egotism. It is a mere question of aesthetic level, whether he turns out to be Baudelaire or Bolintineanu, Louis XVI or Nicolae Ceausescu." Andrei Ujica During the summary trial that he and his wife were submitted to, Nicolae Ceausescu is reviewing his long reign in power: 1965-1989. It is an historical tableau that in its scope resembles American film frescos such as those dedicated to the Vietnam War. -- (C) Official Site
News & Interviews for The Autobiography of Nicolae Ceausescu
Critic Reviews for The Autobiography of Nicolae Ceausescu
Audience Reviews for The Autobiography of Nicolae Ceausescu
It's such a bold choice to just let all this footage speak for itself, devoid of any narrative, but it makes for a tough document that might be understandable only to those who already have a strong knowledge of Ceausescu's reign. The film aimed high with its ironic title, but I felt like I wasn't in on the joke; I'm not sure I'd rather have been led by the nose like in a Michael Moore documentary, but I could have done with at least a little framing or context.
Daniel Perry
Super Reviewer
The "directors' of this film have decided that showing raw footage of speeches, visits of world leaders and general propaganda provides the viewer with the true history of Nicolae Ceausescu. What it does provide is an artificial sense of the man without providing any context of the battle between an autocratic leader and his people. This one begs for commentary.
John Ballantine
Super Reviewer
Exclusively using archival footage, "The Autobiography of Nicolae Ceausescu" details the reign of the Romanian leader from his rise to power in 1964 to his calamitous fall in 1989. The highlights include a supremely ballsy repudiation of the Soviet invasion of Czechoslovakia in 1968 and Nixon's visit in 1969 which proved the old adage that only Nixon could go to Romania.(There's a Futurama joke in there, I suspect.) All of which along with Romania's warm relations with Communist China paved the way for its independence in the Eastern Bloc. The irony is that per the film's title this is probably the rosy way that Ceausescu saw things when in fact the reality was much, much worse, as he was in fact quite a repressive leader. Admittedly, accusing him of genocide was probably taking it a little too far. At the same time, that same irony almost escaped me, until I did a little online research.(Thanks, Wikipedia!) And considering that the average attention span is 5 to 10 minutes, I wouldn't probably be the only one. That's not to mention those people still living in Romania who currently think back on Ceausescu's reign as being the good old days. And then there is the small matter of aesthetics wherein the documentary's lackadaisical editing makes it almost seem like it would best be suited to be streamed on the side of a wall in a museum.
The Autobiography of Nicolae Ceausescu Quotes
There are no approved quotes yet for this movie.