Bastards
(2013)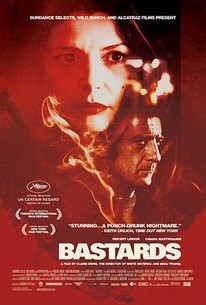 Movie Info
Acclaimed director Claire Denis's jagged, daringly fragmented and darkest film is a genuinely contemporary film noir inspired by recent French sex ring scandals involving men of wealth and power. Vincent Lindon (Denis's Friday Night) stars as Marco, a sea captain gone AWOL to avenge his brother-in-law's suicide and to rescue his estranged sister and his teenaged niece (Lola Créton, Goodbye First Love); Chiara Mastroianni (A Christmas Tale) is Lindon's married lover, who has sold her soul in exchange for the security of her young son; and the remarkable Michel Subor is her husband - a sleazy financier who is the very embodiment of an evil beyond comprehension. Denis takes the viewer into the very heart of darkness in her most unsettling film yet, an unforgettable and thrilling commentary on late capitalism. An official selection at the Cannes and Toronto Film Fesitvals. (c)IFC
People Who Like this movie also like
News & Interviews for Bastards
Critic Reviews for Bastards
Audience Reviews for Bastards
This is an intense psychological drama. The acting is tight as is the unfolding story but forewarnings to those who care not to dwell on disturbing subjects. This will test your limits.
John Ballantine
Super Reviewer
½
With a confusing structure and plot threads that go nowhere fast, this fragmented film noir also fails to keep us involved by never going deep into the characters' motivations, and it leaves loose ends in an artificial resolution that makes it seem incomplete and pointless.
Carlos Magalhães
Super Reviewer
½
Upon hearing about his brother-in-law and best friend committing suicide and his niece Justine(Lola Creton) being found dazed and naked in the street, Marco Silvestri(Vincent Lindon) leaves his job as a ship captain to rush back to Paris to be there for his sister Sandra(Julie Bataille). A month later, he has moved into a new apartment and insinuated himself into the life of Raphaelle(Chiara Mastroianni), a single mother, who has ties back to Edouard Laporte(Michel Subor), an industrialist who has connections to his own family's business. "Bastards" is a dark moody neo-noir movie. While Claire Denis tells a relatively straightforward story here that also circles back around somewhat unnecessarily to the central incident(I got it once the words "vagina repair" were mentioned, thank you) going from A to Z, she also at the same time leaves out G, H, L, P & T, leaving the viewer to make the necessary connections. Here, they revolve around family, as it almost always does, where perspective can be skewed even under the best circumstances and we get at least two meanings for the film's title. For example, you have to wonder about the Silvestri family business being impossibly high heel shoes and how that perversity might connect to the central tragedy.
Bastards Quotes
There are no approved quotes yet for this movie.