The Baytown Outlaws
(2013)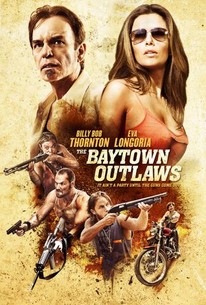 The Baytown Outlaws Photos
Movie Info
After her ex-husband Carlos (Billy Bob Thornton) shoots Celeste (Eva Longoria) three times in the gut, it's time to play dirty. In the fight for her godson, Rob, she hires three outlawed and redneck brothers to bring him back to her. But nothing can be that simple in the South. What begins as a small rescue mission rises to a Southern battle royale. This odd team must shoot their way through gorgeous female assassins, Native American hunters, federal agents, and a whole lot of metal coming after them, while protecting Celeste's innocent child. -- (C) Phase 4
News & Interviews for The Baytown Outlaws
Critic Reviews for The Baytown Outlaws
Audience Reviews for The Baytown Outlaws
½
The Baytown Outlaws is a pointless mess of a film with a poor cast, poorly thought out script and misdirection from its director, who can't seem to make something watchable out of the film. I was bored throughout the film, and with seeing the trailer, it looked like a pretty funny, action packed film that would be a mindless movie to watch and have fun. Well, it certainly was mindless, but it wasn't enjoyable to say the least. Everything about the film is garbage and it is one of those movies that never should have been made. The film had the potential of being a thrill ride from start to finish, however the script is so poorly layered and written, that it loses steam halfway through, and by the end of it, it just fails in terms of a movie that you're going to enjoy. I really hated the film, and thought it was a waste of time. Don't go into this one expecting a good film, you'll be sadly disappointed. This is pure low budge B movie trash and it shows. No effort was put into this film whatsoever and the cast are wooden in their performances and none can salvage this stupid, pointless movie. Avoid this film; it's not worth your time. The Baytown Outlaws had an interesting idea, unfortunately it was developed a director who just isn't competent enough to make something interesting for the viewer. Overall this is a misfire that just ends up falling flat. Spend your time watching something else; you'll be glad you did.
½
A hilarious, bloody, bold and explosive action-comedy. It's outrageously over the top with great Tarantinoesque dialogue, wonderfully silly characters, brutal gun-fights and wicked humor. It's brutally funny and just plain fun from start tot finish. It's not meant to be taken seriously or anything its just meant to be an enjoyable movie and that it proves to be, nothing more or less. A ridiculously entertaining action-packed joy-ride. The cast are all wonderful to watch. Billy Bob Thornton is fantastic, he's intense, very funny and just a real blast to watch. He's such a fantastic villain in this film. Andre Braugher is terrific. Eva Longoria is wonderful. Clayne Crawford, Daniel Cudmore and Travis Fimmel are just a blast of energy, humor and mayhem. They are wildly funny and exciting team. It's Smokin Ace's meets in The Way of the Gun. It's a great way to spend ninety-eight minutes on a slow day, because this movie just speeds it up. Director, Barry Battles has a great time with his material and makes it worth while. It's very cool and has some surprising character moments that make it close to great.
Sadistically sick and trashy film of three brothers: Lincoln(Daniel Cudmore), McQueen (Travis Fimmel) and Reese (Paul Wesley) who are on the run from the law...just as as the law Sheriff Henry Millard (Andre Braugher) uses them to commit ludicrous and heinous crimes. Typical case of what comes around goes around...fast! Just after Celeste (Eva Longoria) makes the pay-off to get her handicapped god son back to her, things start to heat up on all of them. The shoot outs keep my interest throughout the film. Looking for sanity in this film was truly lost. See this ONLY if you are bored.
Fascade Fiveoneeight
Super Reviewer
The Baytown Outlaws Quotes
There are no approved quotes yet for this movie.