The Big Animal
(2000)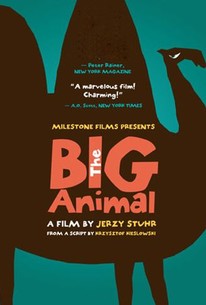 Movie Info
Working from a recently rediscovered script from late Polish filmmaker Krysztof Kieslowski, veteran actor and frequent Kieslowski collaborator Jerzy Stuhr directs this wry fable about intolerance and individuality. The film opens with bank clerk and clarinet enthusiast Zygmunt Sawicki (Stuhr) discovering a huge two-humped camel in his garden -- apparently left behind by a traveling circus. Though his schoolteacher wife Marysia (Anna Dymna) initially doesn't know what to make of the cud-chewing animal, Zygmunt takes an immediate shine to the beast, and takes it in. His fellow villagers also seem to take to the camel: Zygmunt is greeted warmly as he parades it around their little town, and Marysia's pupils clamor over each other to name the animal. However, the townsfolk soon grow tired and suspicious of the beast. Friends and neighbors start to avoid the Sawickis, and children are forbidden to go near the animal.
Critic Reviews for The Big Animal
Audience Reviews for The Big Animal
ever wanted a Camel, Watch this and you might just wish you had one. Beleive this is a Polish Film, Subtitles, so bear with it and enjoy. If you see it get it.
Bruce Bruce
Super Reviewer
The Big Animal Quotes
There are no approved quotes yet for this movie.