The Big Sick
(2017)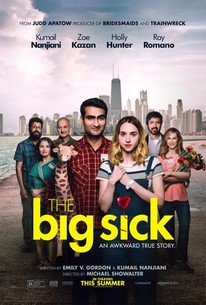 TOMATOMETER
AUDIENCE SCORE
Critic Consensus: Funny, heartfelt, and intelligent, The Big Sick uses its appealing leads and cross-cultural themes to prove the standard romcom formula still has some fresh angles left to explore.
Movie Info
Based on the real-life courtship between Kumail Nanjiani and Emily V. Gordon, THE BIG SICK tells the story of Pakistan-born aspiring comedian Kumail (Nanjiani), who connects with grad student Emily (Kazan) after one of his standup sets. However, what they thought would be just a one-night stand blossoms into the real thing, which complicates the life that is expected of Kumail by his traditional Muslim parents. When Emily is beset with a mystery illness, it forces Kumail to navigate the medical crisis with her parents, Beth and Terry (Holly Hunter and Ray Romano) who he's never met, while dealing with the emotional tug-of-war between his family and his heart. THE BIG SICK is directed by Michael Showalter (HELLO MY NAME IS DORIS) and producer by Judd Apatow (TRAINWRECK, THIS IS 40) and Barry Mendel (TRAINWRECK, THE ROYAL TENENBAUMS).
News & Interviews for The Big Sick
Critic Reviews for The Big Sick
Audience Reviews for The Big Sick
A little long, but good movie. Zoe Karan is great. I have never not liked her in a movie.
Nicki Marie
Super Reviewer
I can't believe how a traditional rom-com can be so original, but The Big Sick is. The key to this movie is its charm, which it has in spades thanks to the chemistry between Kumail Nanjiani and Zoe Kazan. The writing is clever, the story is compelling, and the cast gels together very well. While it's not without some traditional rom-com flaws, this film does a great job keeping them to a minimum. It's also great to see Bo Burnham and Ray Romano at work. This is one of the best films of 2017.
Sanjay Rema
Super Reviewer
½
Films like The Big Sick are very rare occasions. When the trailer for this film was released, displaying it as a hilarious comedy from start to finish (with a hint of drama throughout), I was sold. That being said, this film is as much a drama as it is a comedy. Independent films like this need to be discovered more often, because not enough of them are released to a mainstream audience. Sure, many people will be turned off by an off-beat indie feature, but there is also the odd one that audiences gush over. I truly feel that The Big Sick will be one of those unanimously adored films as 2017 comes to a close. I found myself cracking up, tearing up, and becoming emotionally invested from beginning to end. This is why The Big Sick deserves your attention. Most romantic comedies have their share of unbelievability when it comes to their romance factors. To be quite honest, a film like this wouldn't have worked over 30 years ago, because times are just much more accepting nowadays. This is a film that is quite the eye-opener in many ways. Loosely based on true events, Kumail is a man from Pakistan, who falls in lover with an American girl, not telling his family (because they have arranged marriages in their culture) so that he may live the life he believes he deserves. Forming a strong, yet awkward bond, these two face a very difficult challenge as she realizes he has been lying to his family about her. The film takes quite a turn when she realizes she has issues and is forced into a coma. This film then becomes Kumail's story of self-discovery and I loved every second of it. Not only is this a very funny movie when it wants to be, but it's also one of the most important movies you'll probably see all year. In terms of being accessible to all viewers, this film takes a very unconventional approach to the Rom-Com genre. From being incredibly racist throughout a few portions, the movie is so well-mannered that you can forgive its jabs. Also, when it takes the turn into hardcore drama, that's also when a lot of the jokes come into play. There is a very nice balance between the sad and the funny here, which I thoroughly enjoyed. The Big Sick may not be the greatest Rom-Com of all time, but it wouldn't be much of a stretch to say it's one of the best in recent memory, due to the sole reason that it does everything in its power to revitalize the genre. There are so many unexpected turns this film takes and the payoffs in the final act are all earned and tear-worthy. Ot was very clear that Judd Apatow has some sort of hand in this production, even though it was very clearly from the minds that experienced these events. Kumail Nanjiani and Emily V. Gordon scripted this film, and director Michael Showalter brought much life to their wonderful tale. Apatow films have a very specific feel to them, being that they juggle drama and comedy very well, which is exactly what The Big Sick was Abe to accomplish. This also brings me to my biggest, and really only complaint about this movie. While the movie does try to become awkward at times in terms of what you should or shouldn't laugh at, it broke the streak of believability for me on many instances. There were a few conversations spread throughout this film that truly didn't feel authentic, but you may not see that the same way that I did. In the end, I'm sure there were liberties taken in order to make this true story work on-screen, but the end result is a near-perfect piece of Rom-Com filmmaking. Most films of this genre don't have the guts to take risks like the ones that The Big Sick chooses to, which is why I think I loved it more than I expected I would. There are some forced sequences of prolonged dialogue that may turn a few viewers off and it probably could've been about 10 minutes shorter, but these are all very minor complaints. This is an extremely well-made film that I can easily recommend to almost everyone. Some jokes may offend certain viewers, but they feel natural enough to be forgiven. The Big Sick does everything a film in this genre should do, and the some. I love this movie.
The Big Sick Quotes
There are no approved quotes yet for this movie.
Discussion Forum
Discuss The Big Sick on our Movie forum!