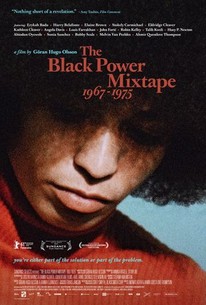 The Black Power Mixtape 1967-1975
2011, Documentary/History, 1h 40m
53 Reviews
1,000+ Ratings
Where to watch
Rent/buy
Rent/buy
Rate And Review
The Black Power Mixtape 1967-1975 Photos
Movie Info
Swedish journalists document the black power movement in America.
News & Interviews for The Black Power Mixtape 1967-1975
Audience Reviews for The Black Power Mixtape 1967-1975
I found it terribly interesting that the Swedish team that took much of the historical footage of this film caused an international incident by highlighting race tensions in the U.S. which resulted in a recalling of ambassadors. A great overview and look at some of the less well known characters of the movement. Thoroughly enjoyable.

"The Black Power Mixtape 1967-1975" is a fascinating documentary, with the help of some commentary from the present day, that contains footage shot by Swedish broadcast crews of interviews and speeches by black leaders with highlights including Stokely Carmichael interviewing his mother, Eldridge Cleaver in exile in Algiers, Angela Davis in a jail cell on trumped up charges, and one great poem I wish I could remember. Of similar interest is interviews with anonymous people on the street, creating a sense of what it was like to live at the time and insights into the Black Panther Party. All of which forms a narrative of the black power movement from hope to resistance to persecution to repression to defeat, symbolized in epidemic drug abuse. As Stokely Carmichael said, Dr. King's message of nonviolence is all well and good, assuming the people in power have a conscience. On a personal level, what's sad for me is again looking to another country to learn about the history of the one where I live. Apparently in Sweden, they have no problem with those willing to think outside of the box on the left where the word radical is not a dirty word. On a less radical note, there is footage of Dr. King and Harry Belafonte being greeted by the King of Sweden. And then there is the Prime Minister of Sweden creating an international incident by comparing the bombing of Hanoi to Nazi war atrocities which while an exaggeration is still a war crime. So, Sweden gets accused of broadcasting anti-American propaganda by TV Guide, which if they had any knowledge of the publication they were dealing with, they would not be able to stop laughing.

This documentary is essential viewing for anyone interested in modern American history, especially where African American studies are concerned. What we get here is a compilation of hours and hours of footage shot by a group of Swedish new reporters who were fascinated by the Black Power movement, and traveled all over the U.S. and other places to document what was going on. Years later the footage was found, compiled together, and commentary by contemporary individuals mostly artists, musicians, and filmmakers) influenced by the era was added in. There's also commentary from professors as well as some key players from the movement (Angela Davis, Bobby Seale, et al) who at the time of release, were still around to reflect on the times. This is a fascinating and absorbing documentary, It doesn't tell the complete story, but then again, the reporters weren't trying to. They just wanted to capture the era from a unique outsider perspective, and show their take on these important and incendiary events. That aspect alone makes this worth checking out. Plus, all of this footage was previously unreleased, so we get to see some really powerful and eye opening stuff at times. One of my personal favorite parts was the emotional interview Angela Davis gave from her prison cell. It's a chilling and moving moment. The film does have a clear bias that shows which side is favored, but it's not a complete propaganda piece, or entirely unbalanced. It does help if you come into this with some prior knowledge, but I think you might still be able to appreciate it if your knowledge of the people, places, and events are limited. I'm sure you could argue just how important this film is, and how valuable the contents are beyond the cursory, "look at this neat footage", but in the end, think this is some remarkable and useful material. Granted, I'm already interested, so I found it fascinating, but one can't deny that the Black Power movement was a vital part of modern American history.
See Details