The Boys and Girl from County Clare
(2004)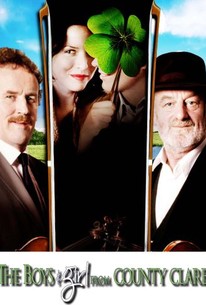 The Boys and Girl from County Clare Videos
The Boys and Girl from County Clare Photos
Movie Info
British filmmaker John Irvin directs the musical comedy drama The Boys From County Clare. Set in the late '60s, the story involves a pair of rival brothers reuniting for the All-Ireland Traditional Music Competition in County Clare, Ireland. As defending champion John Joe (Bernard Hill) gets his local Celtic band ready to compete, his estranged brother, Jimmy (Colm Meaney), blows into town from Liverpool with his own band. John Joe's pianist, Maisie (Charlotte Bradley), isn't happy to see Jimmy, who had left her years ago to raise their daughter, Anne, all by herself. Now the town's star fiddle player, Anne (Andrea Corr of the Irish pop group the Corrs) goes against her mother's wishes in order to seek romance with Jimmy's flute player Teddy (Shaun Evans). The Boys From County Clare was shown at the 2003 Toronto Film Festival.
Critic Reviews for The Boys and Girl from County Clare
Audience Reviews for The Boys and Girl from County Clare
An enjoyable heart-warmer... and there's nothing wrong with that. Made me want to go to a pub and have myself a pint or two.
Dr. AlphonSeuss
A gem of a movie! This was a sweet movie with all the wonderful Irish elements a person could want: family mis-communication, drinking, fiddles, fun music, and a sweet love story. Very well done, with some very good, recognizable actors...
Cynthia S.
Super Reviewer
I can actually sing a few songs in the Irish language. Not many, mind, and I can't reliably translate them anymore, but I have four credits in Irish Gaelic Language and Song. It was many years ago now, but most of the ones I still use with any degree of regularity are music-oriented. Ergo, just about every time anyone in the movie said a word in Gaelic, I knew what they were saying and how to spell it. I also knew the names of the instruments. This was easily one of the most interesting parts of the film. This is not, as I had anticipated, one of those [i]Full Monty[/i]-ish films of a group of nobodies getting together for their one chance both for greatness and to save their home/jobs/families/whatever. No. These people are entering this competition because it's a thing that they do. Yes, all right, they bring their burdens and pasts along with them, of course. There is also a certain air of "we have to do it this time" involved. However, it is made quite clear that these people have been in competitions before, and they'll be in competitions again. Some of them will even compete against one another again. It's just that this one year, this one weekend, will cause the past or future to rise up and wallop people on the forehead. And, of course, Colm Meaney's in it. Because when is he not? It's set in Ireland. Ergo, there is Colm Meaney, the one Irish actor the average American can identify as both Irish and an actor, even if he is "that guy who played Chief O'Brien" to them. (Yes, Liam Neeson. But stop ten people on the street and find out how many of them know he's Irish. I ask you.) Now, I can list dozens, but I watch a lot of movies--and, let us be fair, there would be people on that list like "that one musician who was in [i]Once[/i] and [i]The Commitments[/i]." So how much better am I? And who am I to fault Colm Meaney for making a career on being Recognizable Irish Guy? The music in this is pretty good. Not, I think, great, but pretty good. I'm pretty sure the people weren't playing their own instruments, because the fingering and bowing on the fiddlers (the instrument I know best) looked wrong to me, but maybe some of them were. The music of the winning band--and, no, I won't give that away, obvious or not--was pretty good; I could see how they would beat those around them. However, if it's the music you're after, just listen to a CD. It's okay. The music is decent; the acting is decent. Some of the story stuff is pretty good. Some of it isn't. Some of it is overdone or simply unnecessary. I won't tell you [i]not[/i] to watch it. But you might want to consider just watching [i]The Full Monty[/i] or [i]The Commitments[/i] again instead.
Edith Nelson
The Boys and Girl from County Clare Quotes
There are no approved quotes yet for this movie.
Discussion Forum
Discuss The Boys and Girl from County Clare on our Movie forum!