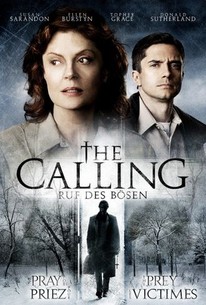 The Calling
2014, Mystery & thriller, 1h 48m
46 Reviews
2,500+ Ratings
What to know
critics consensus
The Calling offers an excellent cast and a few decent thrills, but that isn't enough to overcome its lack of suspense or original ideas. Read critic reviews
You might also like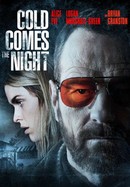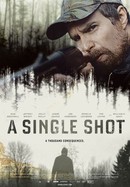 Rate And Review
Movie Info
A small-town detective (Susan Sarandon) comes face-to-face with a serial killer whose belief in a "higher calling" led to a string of grisly murders.
Critic Reviews for The Calling
Audience Reviews for The Calling
I love how the poster for this film takes about 25 years off of Susan Sarandon's actual age, I bet nobody noticed that. Never really understood all that airbrushing, particularly for a movie that doesn't really needed it. Susan Sarandon, as talented as she is, isn't exactly gonna knock them dead at the box office. And it's not like the people who wanted to watch the movie would be turned off by seeing 67-year-old Susan Sarandon on the cover. I really doubt they'd have seen her as she normally looks just refused to see it. I'd understand if this was a big-budgeted release, even if I would still find it crazy, but at least I'd get it then. It just doesn't make sense to me whatsoever. But I digress, this movie is absolutely yawn-worthy. An interesting concept is wasted on a script with absolutely no real suspense. You never really get a sense that anything of importance is actually happening and the plot doesn't entirely make a bunch of sense. At least one part of it. It lays a talented cast to waste. There's no hints of originality here, but I think that's an overrated quality by some people, myself included. If the film is good, with a compelling story that draws you into the mystery, weaving a complex tale with various potential suspects, then originality goes out the window because you are invested in the story. Part of the problem is that there's no real mystery here. You find who's committing the murders, and his motivations, fairly quickly. So, basically, the entire thing is more of a manhunt to find the next potential victim to stop him from getting to them. That's not entirely as interesting as having various suspects to ponder about. Maybe it's someone close to Hazel herself. Maybe it's the rookie that just got transferred. Knowing who it is straight out of the gate takes the fun out of the film, for me at least. You know that the reason he is doing what he's doing to bring someone back, the question is who? So the motivations are also revealed immediately. I don't know, but they have this movie all backwards. Where's the mystery? Where's the suspense? It's nonexistent. It's preposterous to me why you would choose to go this route. I realize this film is based off a novel, but there's reasons why almost no adaptation is 100% faithful to the book it is based on. There's some creative liberties taken for pacing of the film, or because a particular idea doesn't work when brought to screen. If the book really was like this, then that is something that should've been changed. I do not know, as I have not read the book myself, but if it follows that same structure, then they really made a big mistaken. I digress, I keep harping on this too much. But this is really what I disliked the most about the film. The reason there's no suspense, or mystery, is because the film gives you all the answers before you've even had substantial time to process the questions. Unacceptable to me. The film is competently shot. Visually, it reminds me of Fargo and it's obvious that that's what they were going for. Of course, it doesn't have the great script Fargo has, so any comparisons between the two will only make this film seem even worse. I digress, the film isn't really that offensively bad. The story is definitely preposterous, but I'd be willing to overlook that if I was at least invested in it. But I wasn't, so it ends up getting in the way to be honest. A talented cast is massively wasted on a script with little substance or mystery. You really won't be missing anything if you decided to pass on this movie. Trust me, there's no need for you to watch this.

Not a bad film but not a great one either. I probably was more sympathetic to this effort because of its overtly Canadian background. The film was entirely filmed in Hamilton.
Quotes
There are no approved quotes yet for this movie.