The Captive
(2014)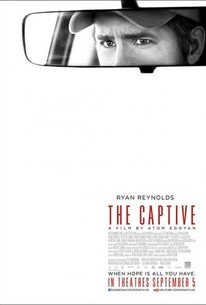 TOMATOMETER
AUDIENCE SCORE
Critic Consensus: Wan and lugubrious, The Captive represents another atmospheric, beautifully filmed misfire from director Atom Egoyan.
Movie Info
Matthew steps briefly into a diner and comes out to find that his young daughter Cassandra has vanished without a trace from the back of his truck. Her unsolved abduction destroys Matthew's once-happy relationship with his wife, Tina, who, haunted by mementos of Cassandra that appear mysteriously at her work, suspects her husband of foul play. Years later, when detectives Nicole and Jeffrey discover recent images of Cassandra online, Matthew risks everything to ensure his daughter's safe return-and to save himself and Tina from the limbo of unrelenting despair.
People Who Like this movie also like
News & Interviews for The Captive
Critic Reviews for The Captive
Audience Reviews for The Captive
½
A movie so silly and banal that it may take us a bit longer than usual to realize how actually stupid, implausible and empty it is once it is over, with an awful amount of expository dialogue, poorly-developed characters and a non-linear structure adopted for no purpose at all.
Carlos Magalhães
Super Reviewer
½
Bien actuada, bien dirigida y bien filmada. No es suficiente para una película que esta mal escrita y con una historia que ademas de predecible se va spoileando ella misma.
Fernando Martínez Cantú
Super Reviewer
I don't really know what to make of this movie. There's a large part of me that feels that, deep down, there's a really good movie here. It's not a story that we wouldn't have seen before, in fact, parts of it remind me of the excellent Prisoners with Hugh Jackman and Paul Dano. The film has a good enough cast with Ryan Reynolds, Rosario Dawson, Mireille Enos and Kevin Durand all providing some solid performances. The film's biggest problem, however, is how poorly plotted it is. And what I mean by that is the fact that the movie is literally all over the place when it comes to focus and chronology. Some scenes might take place immediately after the kidnapping itself, the scene after that might take place 6 years after it. So on and so forth. It's honestly really awful structuring. And the fact of the matter is that the film has so many masters and stories that it wants to tell that it's literally all over the place and the film never seems to get its footing because of it. And it's not like a Tarantino-esque approach, where the film might be out of order, but at least it all comes together in a satisfying fashion. The film being chronologically out of order honestly ends up destroying any chance it might've had at being good. The fact that it also wants to go in-depth with any character and their little side story ends up hurting it as distracts from the overall arc that the film is trying to tell, which is Matthew's and Tina's search to get their daughter back. There are large instances of the film that focus solely on either the investigators or the actual kidnapper and Cass and it just hurts the movie. The fact of the matter is that, with this movie, you don't need to focus on those characters in order to tell this story in an effective fashion. Well I think you need Matthew, Tina and the kidnapper. That's really the core of the film. Particularly during the climax, when Matthew finds out who actually kidnapped his daughter. The film might've been better if Matthew figured it out earlier and they had more of a cat-and-mouse effect, with Matthew trying to acquire evidence to get the cops to go after the real kidnapper instead of treating him as the one and only suspect. The film, instead, muddled that up with unnecessary characters and plot points. Rosario Dawson's character gets kidnapped for, literally, no reason whatsoever. Just cause. I mean, she did take down a person involved in this pedophile ring, but there's no real reason for her kidnapping past the person taken down wanting her to be kidnapped. And when they DO kidnap her, there's no real actual follow up. It's like they forgot why they put Dawson's character in that situation in the first place. Again, it just takes up time that would've been better spent focusing on what really matters in the film. I think this is just Atom Egoyan trying to be artsy, like an even less talented Gus Van Sant. Think about that for a second. The film is beautifully shot, I'll admit that, but there's nothing about the cinematography that accentuates what's going on around it. The narrative itself, like I said, is horribly written. There's a good story to tell here, but it's just squandered by bullshit that's not important in the first place. I can't really recommend this movie in the slightest. Solid acting simply can't make up for the fact that the structure is just dreadful.
Jesse Ortega
Super Reviewer
The Captive Quotes
There are no approved quotes yet for this movie.