The Coca Cola Kid
(1985)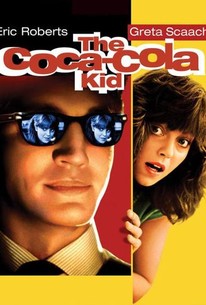 Movie Info
In this routine story about love, business, and soda pop, Becker (Eric Roberts, brother of Julia Roberts) is a marketing whiz for the Atlanta-based Coke company, mandated to go to Australia and improve their sales. After he arrives, he traces some strong competition to T. George McDowell (Bill Kerr) whose own brand of bubbly carbonate has carved out a monopoly in one particular region. Becker's mission looks promising -- McDowell is interested in a merger -- but then, Becker's secretary (Greta Scacchi) is interested in a merger of another kind, and she is McDowell's daughter. Now Becker is worried that conflicts personal and otherwise may scotch the whole deal.
Critic Reviews for The Coca Cola Kid
Audience Reviews for The Coca Cola Kid
A strange, quirky, yet predictable comedy, romance, adventure in Australia. I half like it and half hate it, so it's okay.
The Coca Cola Kid Quotes
There are no approved quotes yet for this movie.