The Damned (Les maudits)
(1947)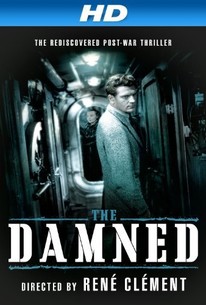 Movie Info
Oslo, April 19th 1945, as the Third Reich is living its last days, a group of Nazis and sympathizers (a Wehrmacht general; an SS commander and his "assistant"; an Italian industrialist and his wife who is also the general's lover; a French collaborator) board a submarine that will take them to South America, where they hope to find refuge. While they sail in the Bay of Biscay, off the shores of the liberated French port of Royan, they manage to kidnap a French doctor to have him look after a wounded passenger. Dr Gilbert will be forced to share the restricted space of the submarine with the fugitives. The atmosphere soon becomes unbreathable..
Critic Reviews for The Damned (Les maudits)
Audience Reviews for The Damned (Les maudits)
½
Based on a family's foray into unadulterated corruption during the third Reich. Initially, the relationships of the various characters were difficult to follow, but their manipulations and depravity slowly and memorably reveal their personalities. Debauchery and decadence are intrinsic within the Nazi regime. Helmut Berger's performance is amazing as he transforms from a dandy to a completely evil and ruthless man. The ending is incredible.
Stefanie C
Super Reviewer
½
'The fall of the gods' it's the original and perfect title for this jarring shakespearean/greek like retelling, set in the morbid, decadent days of nazi Germany, told with Visconti's visual richness. Precursor of a whole new and very popular subgenre, the "sadiconazista" or "naziexploitation" fashioned/chic nazi erotic movies that pullulated Italy in the 70s (Il portiere di notte, Saló or Salon Kitty to name a few) it later reached America (Ilsa-she wolf of the ss) and even Hollywood (Cabaret). Essential chapter about the insanity of power.
Pierluigi Puccini
Super Reviewer
The Damned (Les maudits) Quotes
There are no approved quotes yet for this movie.