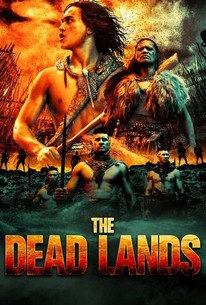 The Dead Lands
2014, Action/Horror, 1h 48m
53 Reviews
1,000+ Ratings
What to know
critics consensus
The Dead Lands doesn't add anything new to the primeval quest genre, but its battle scenes boast enough visceral thrills to carry viewers through the more mundane moments. Read critic reviews
Where to watch
Rent/buy
Rent/buy
Rent/buy
Rate And Review
Movie Info
After his fellow tribesmen are slaughtered by rampaging warriors, a Maori teenager travels to a land haunted by malevolent spirits to ask a fearsome warrior to help him take revenge.
News & Interviews for The Dead Lands
Audience Reviews for The Dead Lands
One of the things I like most about watching films from all around the world is the fact that you get to learn about all types of different cultures and how different directors approach filmmaking. I don't know why this film made me think of that, but it certainly did. It's not like I haven't seen films like this before, I may not have seen a lot of them, but it's not something that is unfamiliar to me, so I've no idea why this film brought this out. I digress, however, as this movie did end up being pretty good. It's not like it offers anything new or that inventive to this particular genre, but I did think that the action sequences were actually really good and surprisingly violent. I do think that the film's narrative, while simple and somewhat effective, might be a little bit too dull for some to follow. Hongi's tribe is gruesomely murdered by a rival tribe. Hongi seeks help from a fearsome warrior they call a demon, who has a real dark past, to avenge his village. Hongi and the Warrior, of course, at first start out having a contentious relationship, like every mentor/student film ever made. Of course, as the film progresses, respect starts to build between the two as the Warrior helps Hongi learn about what it really means to be a warrior. It's pretty much every mentor/student film ever made. And that's probably where the film is at its weakest points. It just plays pretty much exactly like you'd expect and I think that predictability, while the film is still good, keeps the film from reaching an even higher level. With that said, I will say that Lawrence Makoare, who plays the Warrior/Demon/whatever you wanna call him, does a great job with his character in this film. Lawrence is a man who's known for playing orcs in the Lord of The Rings and Hobbit franchises, you would, wrongly, assume that he doesn't have the acting chops to carry such a tortured character. But, you know what, he does a real good job with this character and everything that he's going through on an emotional level. It's not like he's Daniel Day-Lewis or anything close to an elite-level actor, but he was really good in this movie. And, of course, he also has the physical presence in order to look and act the part of someone who's supposed to be this terrifying figure. This is a good movie honestly, I just think that the narrative needed a lot more work done in order for it to match up to how good the action sequences are. I'd certainly recommend it if only for the action sequences, the narrative needed some work, but it's not horrible or anything like that. It gets the job done, it gets you from point A to point B suitably enough. Good film and I'd definitely recommend it as a Netflix watch.

True that the story is predictable to a fault but by presenting us a very fresh approach to the action revenge genre, The Dead Lands manages to be entertaining even if some of these mannerisms come off a bit flat at times and the actors don't help to sell it much, asides from The Warrior and the evil dude's side kick. All in all, you could compare this to Apocalypto but a bit more straightforward and with a predictable structure until the end.
See Details