The Dinner
(2017)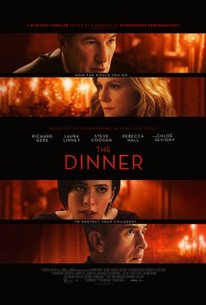 TOMATOMETER
AUDIENCE SCORE
Critic Consensus: The Dinner's strong ensemble isn't enough to overcome a screenplay that merely skims the surface of its source material's wit and insight.
Movie Info
When Stan Lohman (Richard Gere), a popular congressman running for governor, invites his troubled younger brother Paul (Steve Coogan) and his wife Claire (Laura Linney) to join him and his wife Katelyn (Rebecca Hall) for dinner at one of the town's most fashionable restaurants, the stage is set for a tense night. While Stan and Paul have been estranged since childhood, their 16-year- old sons are friends, and the two of them have committed a horrible crime that has shocked the country. While their sons' identities have not yet been discovered and may never be, their parents must now decide what action to take. As the night proceeds, beliefs about the true natures of the four people at the table are upended, relationships shatter, and each person reveals just how far they are willing to go to protect those they love.
News & Interviews for The Dinner
Critic Reviews for The Dinner
Audience Reviews for The Dinner
Rarely does a movie go so far out of its way to not tell a story as The Dinner does. Though it presents itself as being about a group of parents who meet to discuss how to handle a crime that their sons committed, it's constantly going off on tangents and then the tangents go on tangents. One of the film's themes is mental illness, so perhaps it's the film's intention to disorientate the audience. But it makes for piss-poor storytelling. It takes about half of the film to suss out who all the characters are and what's happened. And the film doesn't have an ending, it just stops. Featuring Richard Gere, Laura Linney, Steve Coogan, and Rebecca Hall, the cast is pretty good and delivers some strong performance, yet they're not able to save this mess. The Dinner is just a badly make film plain and simple.
Dann Michalski
Super Reviewer
The performances are very good, even though Steve Coogan plays one of the most insufferable protagonists I have ever seen, but the film itself is actually full of insufferable characters that test our patience and make this an awfully unpleasant experience to go through.
Carlos Magalhães
Super Reviewer
SPIT IT OUT - My Review of THE DINNER (1/2 Star) Writer/director Oren Moverman knows better, right? I mean, I enjoyed THE MESSENGER and RAMPART, both providing Woody Harrelson with two of his best performances, but his latest, THE DINNER is, to put it mildly, a steaming stinker. Of course, the big dumb studio comedies would normally fill that bill, but when you assemble so much talent, it's that much more disappointing when it fails this miserably. I can honestly say that despite some very good performances, THE DINNER is easily the most excruciating moviegoing experience I've had in years. Structured inexplicably around the multiple courses of a dinner at a fancy restaurant, the film gathers 2 brothers (Richard Gere, a gubernatorial candidate, and Steve Coogan, a high school history teacher) and their respective wives (Rebecca Hall and Laura Linney) as they hope to discuss a personal family matter. Trouble is, they're constantly interrupted by either Gere's chief of staff (a strong Adepero Oduye, PARIAH, 12 YEARS A SLAVE), who provides a ridiculous mcguffin regarding an impending vote on a bill, or by the wait staff who incessantly chime in about each dish, or by Coogan's endless mental health issues. Did I say endless? It literally takes almost an entire hour and a half for us to learn about the main issue because the above-mentioned interruptions just keep coming. When it's finally introduced, our main characters have a heated conversation about it in attempt to come to an agreement. Without spoiling the topic, it amounts to one of those moral quandaries where there's no good answer. It's all told from the point of view of the slowly unraveling Coogan, who in the book by Herman Koch, served as an unreliable narrator. In trying to translate his mental state to the screen, the film ends up being more frustrating than mysterious. Despite this, our five leads do well, with the great Hall beautifully building steam until her character snaps. Linney and Gere, with this being their 3rd collaboration on film, don't interact that much, but they both have solid grasps on their prickly characters. Coogan gets the meatiest part as an unstable, paranoid, angry, disappointed man who resents his successful brother and how his mental status is addressed by everyone around him. There's a compelling movie to be made about his character, but this isn't it. You just want to scream at the screen for everyone to just get on with it. It's basically a short film that's been heavily padded to its nearly two hour running time. The film takes a somewhat psychedelic detour to Gettysburg, Pennsylvania, so that we can learn about the death toll of the Civil War. It fits because of the violent themes at play, but it's a jarring tonal shift that should have been cut. The whole thing ends on an ambiguous note clearly intended to start some water cooler conversation. Mine went something like this: ME: Can you believe that ending? BUDDY #1: It's the director's final "fuck you" to the audience. BUDDY #2: Nothing gets resolved. ME: I guess we're supposed to think that violence begets more violence. BUDDY #1: Something we already knew going in. ME: Can you believe a movie called THE DINNER barely showed off the food? BUDDY #2 (to the waiter at Canter's): I'll have the scrambled eggs. BUDDY #1: I'll have the Denver Omelette. ME: I'll have the Brooklyn Avenue with potato salad. I guess Hollywood does have a lesson to teach us after all. No, not that stuff about violence. It's that no matter how unappetizing the film turns out to be, you're still gonna wanna eat afterwards.
Glenn Gaylord
Super Reviewer
The Dinner Quotes
There are no approved quotes yet for this movie.