The Disaster Artist
(2017)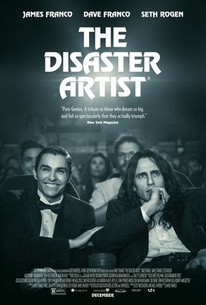 TOMATOMETER
Want to See
Critic Consensus: Oh, hai Mark. The Disaster Artist is a surprisingly poignant and charming movie-about-a-movie that explores the creative process with unexpected delicacy.
The Disaster Artist Videos
The Disaster Artist Photos
Movie Info
The real life story of writer/director Tommy Wiseau, the man behind what is often referred to as "The Citizen Kane of Bad Movies," The Room, is brought to life, chronicling the odd film's troubled development and eventual cult success.
News & Interviews for The Disaster Artist
Critic Reviews for The Disaster Artist
Audience Reviews for The Disaster Artist
OH, HIGH MARK - My Review of THE DISASTER ARTIST (4 Stars) As someone who has written and directed a slew of indie films, each of which was made by the skin of its teeth and completely consumed me, I personally know how hard it is to get a film made. Getting acclaim, the respect of your peers and audience, and financial success are even harder. Each time out, it feels like you're baring your soul, and if you don't connect with people, it can be a heart-wrenching experience. It's why I've loved films about the fringe dreamers such as BOOGIE NIGHTS, LIVING IN OBLIVION, and ED WOOD. Into the fray comes THE DISASTER ARTIST, which chronicles the true story of Tommy Wiseau, writer/director/producer and star of 2003's THE ROOM, and has entered that rarified air of cult classic known as the greatest bad movie of all time. Directed by James Franco, who stars as Wiseau, and written by Scott Neustadter and Michael H. Weber (500 DAYS OF SUMMER, THE FAULT IN OUR STARS) based on the book by Wiseau's friend and co-star Greg Sestero, the film is an affectionate, hilarious, wry look at an inept striver who somehow managed to succeed and fail in the same breath. I remember the billboards in Los Angeles, Wiseau's big, half shut-eyed mug staring down at the traffic on Highland Avenue, a phone number at the top so that you could book his film. I wondered what his portrait had to do with the title. I could tell it was a homemade movie, perhaps tone deaf, and definitely a curiosity item. Eventually, it would rule the midnight movie circuit, turning a profit for its maker, who was of indeterminate age, country of origin, and wealth. THE DISASTER ARTIST begins with a coterie of celebs (I'm convinced EVERYONE is in this film...even you!) talking about THE ROOM. We cut to a San Francisco acting class in the late 90s led by Melanie Griffith (see what I mean?). Sestero (Dave Franco) fails with his timid acting, and then Tommy barrels onstage to hilariously writhe around while screaming, "Stella!". This may very well be the funniest introduction to a character ever. From this, we learn he doesn't have any discernible talent, but he has balls to spare. Sometimes that's all it takes to make a splash. It explains Russell Brand, right? Most importantly, he and Sestero strike up an oddball friendship consisting mostly of Tommy sharing his wisdom and Greg laughing shyly. There's something sweet and charming about their bond, especially when tossing a football back and forth. Wiseau even does this terribly! Dreaming of Hollywood stardom, Tommy casually mentions to Greg that he keeps an apartment there and that they should move there to rule the town. While Greg find an agent in lightning speed, Tommy falls into a depression. His cringe-worthy scene ambushing Judd Apatow at a restaurant is heartbreaking and hilarious. until, again, out of nowhere he tells Greg he has enough money to make their own movie. A pinky swear of mutual devotion later, and we're off to the races in the most exhilarating "making of" stretches of story I've seen in ages. Yes, it gets repetitive, but Franco's unprepared, petulance mixed with Seth Rogen and Paul Scheer's disgust as crew members barely holding the production together, keeps the comedy buzzing along. At the core of the film is the big question mark that challenges us to wonder if Wiseau is putting on an Andy Kaufman-esque act or if he's sincerely deluded, untalented yet passionate as hell. This disconnect keeps you on your toes throughout. At the premiere of the film, the audience's reaction brings out the best in Franco's performance, allowing him to be vulnerable yet scrappy all at once. This wonderfully written film is also benefitted by a great cast. While the brothers Franco do most of the heavy lifting, and do it phenomenally well, Ari Graynor does terrific work as their leading lady, she of "You're tearing me apart, Lisa!" fame. It's difficult to act badly unless you're a great actor, and she has it down. Same goes for Jacki Weaver as the elderly cast member with cancer. Rogen, a national treasure in my eyes, truly shines as he grows more and more irate with Wiseau's antics. You get the sense that like the making of THE ROOM, the making of THE DISASTER ARTIST was like a bunch of artists finding a barn and putting on a show. Who can't connect to the silly dreamers of the world? The standout set piece has to be when Wiseau and company shoot the famous rooftop scene. Shot with green screen in a studio, the crew loses its cool as Wiseau blows take after take. They and we, the audience, can recite his lines by heart, but somehow Wiseau cannot. The randomly incongruous result, "I did not hit her, it's not true! It's bullshit! I did not hit her! I did not. Oh hi, Mark," has already entered the canon of camp classic scenes, and now, in that meta way, so will this sequence. It's no wonder this sequence became the film's first teaser trailer. Franco the director does a good job of keeping everything homespun and ragtag. It's not an amazing feat of directing, but it has energy, warmth and humor to spare. His performances are often hit-or-miss to be, but this one feels iconic. This film would feel pointless if it was just a goof on Wiseau, but Franco and his writers have found the loneliness and pain, the vulnerability, the narcissism, the scared child with an endless appetite for adulation, and the soul barer without the skills. When Emma Stone sang, "Here's to the fools who dream" in LALA LAND, she was saluting the George Clooneys, the Nicole Kidmans, and most importantly, the Tommy Wiseau's of the world. Getting a movie made is a small miracle, even the bad ones. Making a really good film about a bad one is a risk I'm glad they took. I did not hate it, it's true. It's not bullshit! I did not hate it! I did not. Oh, it's a cinematic high mark!"
Glenn Gaylord
Super Reviewer
The Disaster Artist Quotes
There are no approved quotes yet for this movie.
Discussion Forum
Discuss The Disaster Artist on our Movie forum!