The Emoji Movie
(2017)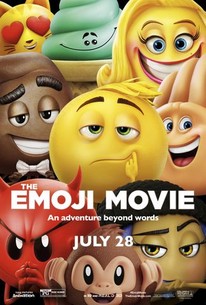 Movie Info
This animated comedy takes place in Textopolis, a world inside a smartphone that's inhabited by various emojis. There, an emoji named Gene (voiced by T.J. Miller) is ashamed that he has multiple facial expressions while his colleagues only have one each, and he embarks on a quest to be like everyone else. James Corden, Anna Faris, Jennifer Coolidge, Patrick Stewart, and Maya Rudolph also lend their voices to this film from Sony Pictures Animation.
News & Interviews for The Emoji Movie
Critic Reviews for The Emoji Movie
Audience Reviews for The Emoji Movie
½
I guess it had to happen, we live in a time now where nothing is sacred, nothing is safe from being milked dry, and anything is free game. We've seen it all from various obscure choices in the videogame archives; to [i]Barbie[/i] to [i]Thomas the Tank Engine[/i] to board games and to [i]Lego[/i]. They will make a movie out of bloody anything given half a chance. I'm half expecting an animated movie about the world of marbles to roll along anytime soon (yes I'm proud of that pun). I think its fair to say I wasn't expecting anything much from this movie, if anything I only saw it out of pure morbid curiosity. I was simply intrigued at how they could construct a narrative around some mobile phone app icons. And my God do they try their best here! They [b]really[/b] stretch and reach and twist that thin ass plot as best they can. Does it work? Not really no, but kudos for trying. I mean I can't deny there are some nice little touches here, its not all terrible. The emoji's live inside a phone (duh) which is owned by a young boy named Alex. Said boy is going through the usual pre-pubescent angst with girls and whatnot and of course being young he uses his phone a lot. Within the phone the emoji's dwell in the city of Textopolis (I like it), their daily job is to produce their emoticon or expression on demand (when Alex uses it). Gene is a 'meh' emoji but he can also make other expressions which is looked upon as freakish, or like having a rare disease. When Gene gets his chance to be used by Alex he has a nervous breakdown and fudges it up. He then finds himself listed for deletion because he is now deemed a malfunction. Gene must now flee the city with another has-been emoji to help him find a hacker to hopefully get himself fixed. So the plot is pretty much the same old shit we've many times before. The protagonist must go on the run to evade the antagonist and her henchmen (henchemoji's). Along the way the protagonist meets new friends that are considered losers basically; and in the end after numerous scrapes they all discover themselves and make friends (whilst saving the day). Its a standard plot mapped on top of this emoji concept. Despite that its still flippin' convoluted though, the nonsense they set up to explain how emoji's are used on a phone. Its kinda treated like a gameshow scenario where talented, experienced and obviously popular emoji's are used regularly (almost like a sports team). But if an emoji shows good promise or whatever then they get the chance to be 'promoted' onto the phones main app screen. It sounds ridiculous because it basically is. Then all the emoji's that aren't used anymore get lumped into a loser lounge type scenario. Very predictable but also somewhat daft as I'm sure most emoji's actually get used a fair bit the world over. Call me stupid but one of the main fun things about this movie was spotting all the different emoji's (sad I know). And sure enough they're all here, right down to the national flags. I quite like how the old emoticons are presented as old age pensioners, umm...that's about as clever as it gets really. Aside from that the entire movie plays out like a long TV advert for various smart phone apps like [i]Twitter[/i], [i]Candy Crush[/i], [i]Just Dance[/i] etc...The movie also uses every flippin' bit of computer jargon it can muster, in a very predictable and cringeworthy fashion. For instance, pirating is represented by...yep...pirates. A Trojan horse is...umm...a big horse. A firewall is a big fiery wall (ugh!!!), and a virus is a sick looking electronic bacteria (fuck me!). Add to that a whole bunch of nauseating pop songs, modern trendy teen lingo, various brands and voilà! The sidekick characters bland and unfunny (hi-five and a princess), again totally predictable. Alex decides to completely wipe his phone when a few apps play up, why not just uninstall them? When the phone is almost wiped Alex stops because of an unusual emoji?? (Gene pulling a stupid face). This emoji is then sent to the girl he has a crush on and she instantly likes him because of that?? Most of the emoji's in Textopolis are erased during this process, but they all come back perfectly OK when the phone is rebooted? No side affects from that? Overall the movie certainly isn't as bad as I thought it was gonna be (but its still quite bad). There are some kernels of a good idea hidden away within, the odd sparse highlight. But again overall its still very very basic, bland, uninspiring, unfunny, and it doesn't even look that great really. This was always gonna be an uphill battle simply because what the hell can you do with emoji's?? I stand by my kudos to all involved for actually managing to produce something that isn't a complete train wreck, but at the end of the day I think we can all agree with was a complete waste of time and money. Heck the aim seems to be to push young kids towards their phones more than ever. As if youngsters need that kind of encouragement these days.
Phil Hubbs
Super Reviewer
Amidst some buoyant animation and some inventive flourishes, The Emoji Movie touts a story and style that is all too disconcerting to the future of film in general. Technology is no doubt a prominent force in our modern world almost to a fault. Instead of critiquing our use of phones and apps as our sole interest, The Emoji Movie practically worships the devices, insisting that we are only getting worse so we might as well embrace having our faces plastered to an electronic. There is no celebration of actual one-on-one dialogue (the entire climax revolves around sending a text to a girl), and there is no optimism about kids growing up in a technology driven landscape. It's rather cynical. Throw into that the fact that the film often is diverting, but grates the longer and longer it drags on with over the top vocal work and lowest common denominator jokes and music cues. The world it does present within the phone is colorful and clever enough, but the film never tries and find a way to not celebrate consumerism. It is a dispiriting animated film in almost all aspects. Wait for Pixar's next instead. Rating: 38
This may come as a shock to many of you, but The Emoji Movie is not good. In fact, it's really bad. Bad in the way that it doesn't even try much of the time. Bad in the way that it is intended to be a funny children's film with a message about championing individuality and being yourself, but even that tried and true formula falls flat. Did I say it was supposed to be funny? It's not funny. It tries, it has obvious attempts at humor, but it's not funny. Worse, it has a talented and typically hilarious group of people providing the voices for much of these humanoid expressions that exist in a world that doesn't make much sense in the first place. Let's start over as this would be the initial issue that only leads to more of these problems that spawn from the fact this is a movie based on emoji's. It would probably be big of me to say that this movie isn't bad simply because it is a movie based on emoji's, but it is. It represents everything wrong with the studio system from the perspective of attempting a cash grab without any measure of creativity or thought put into the actual work. There are no signs of life within this thing other than our protagonist going through the motions of feeling like an outcast, being brave enough to break out of his shell, and discover that it's okay to be different. That's all well and good, but you as well as your kids have seen this countless times before and The Emoji Movie brings nothing new to it with the fact it's emoji's going through these (e)motions only making it that much more grating. Worse even, it's beyond transparent that writer/director Tony Leondis (2008's terrible Igor as well as a few other animated shorts) and his two co-writers Eric Siegel (a TV veteran) and Mike White (Mike White!) could care less about the movie they are working on. No doubt receiving an assignment from head honcho's at Sony Animation that they needed something aimed at the kids after their one-two punch for teens and adults with Spider-Man: Homecoming and Baby Driver the studio latched on to current trends via The LEGO Movie and Wreck-it Ralph and demanded a movie based on those faces kids were using to communicate with on their phones. Leondis, Siegel, and White mix in a little Toy Story as well with hopes of no one noticing and yet The Emoji Movie is so distractingly bad that it doesn't become an issue of the movie being based around characters who are emoticons, but more the fact the whole thing never breaks through that barrier of convincing us why it's necessary. read the whole review at www.reviewsfromabed.com
Philip Price
Super Reviewer
The Emoji Movie Quotes
There are no approved quotes yet for this movie.