The Emoji Movie
(2017)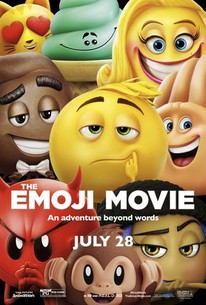 Movie Info
This animated comedy takes place in Textopolis, a world inside a smartphone that's inhabited by various emojis. There, an emoji named Gene (voiced by T.J. Miller) is ashamed that he has multiple facial expressions while his colleagues only have one each, and he embarks on a quest to be like everyone else. James Corden, Anna Faris, Jennifer Coolidge, Patrick Stewart, and Maya Rudolph also lend their voices to this film from Sony Pictures Animation.
News & Interviews for The Emoji Movie
Critic Reviews for The Emoji Movie
Audience Reviews for The Emoji Movie
This may come as a shock to many of you, but The Emoji Movie is not good. In fact, it's really bad. Bad in the way that it doesn't even try much of the time. Bad in the way that it is intended to be a funny children's film with a message about championing individuality and being yourself, but even that tried and true formula falls flat. Did I say it was supposed to be funny? It's not funny. It tries, it has obvious attempts at humor, but it's not funny. Worse, it has a talented and typically hilarious group of people providing the voices for much of these humanoid expressions that exist in a world that doesn't make much sense in the first place. Let's start over as this would be the initial issue that only leads to more of these problems that spawn from the fact this is a movie based on emoji's. It would probably be big of me to say that this movie isn't bad simply because it is a movie based on emoji's, but it is. It represents everything wrong with the studio system from the perspective of attempting a cash grab without any measure of creativity or thought put into the actual work. There are no signs of life within this thing other than our protagonist going through the motions of feeling like an outcast, being brave enough to break out of his shell, and discover that it's okay to be different. That's all well and good, but you as well as your kids have seen this countless times before and The Emoji Movie brings nothing new to it with the fact it's emoji's going through these (e)motions only making it that much more grating. Worse even, it's beyond transparent that writer/director Tony Leondis (2008's terrible Igor as well as a few other animated shorts) and his two co-writers Eric Siegel (a TV veteran) and Mike White (Mike White!) could care less about the movie they are working on. No doubt receiving an assignment from head honcho's at Sony Animation that they needed something aimed at the kids after their one-two punch for teens and adults with Spider-Man: Homecoming and Baby Driver the studio latched on to current trends via The LEGO Movie and Wreck-it Ralph and demanded a movie based on those faces kids were using to communicate with on their phones. Leondis, Siegel, and White mix in a little Toy Story as well with hopes of no one noticing and yet The Emoji Movie is so distractingly bad that it doesn't become an issue of the movie being based around characters who are emoticons, but more the fact the whole thing never breaks through that barrier of convincing us why it's necessary. read the whole review at www.reviewsfromabed.com
Philip Price
Super Reviewer
What The Emoji Movie gives us is literally and actually predictable from the start. It lacks everything creative and everything that makes a movie successful. The Emoji Movie asks for your money so bad they had to literally do the impossible. New low for the year and possibly for the rest of this decade if there aren't as many cringeworthy movies in the near future. The crew behind this embarrassment that you call a movie will probably regret working on this a few years later when it comes to that time. If you give this movie your money, you should feel ashamed of yourself.
EpicLadySponge the Adventurer
Super Reviewer
The Emoji Movie Quotes
There are no approved quotes yet for this movie.
Discussion Forum
Discuss The Emoji Movie on our Movie forum!