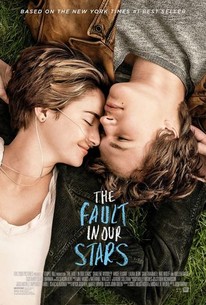 The Fault in Our Stars
2014, Romance/Drama, 2h 6m
227 Reviews
100,000+ Ratings
What to know
critics consensus
Wise, funny, and heartbreaking without resorting to exploitation, The Fault In Our Stars does right by its bestselling source material. Read critic reviews
Where to watch
Subscription
Buy
Rate And Review
The Fault in Our Stars Photos
Movie Info
Hazel Grace Lancaster (Shailene Woodley), a 16-year-old cancer patient, meets and falls in love with Gus Waters (Ansel Elgort), a similarly afflicted teen from her cancer support group. Hazel feels that Gus really understands her. They both share the same acerbic wit and a love of books, especially Grace's touchstone, "An Imperial Affliction" by Peter Van Houten. When Gus scores an invitation to meet the reclusive author, he and Hazel embark on the adventure of their brief lives.
News & Interviews for The Fault in Our Stars
Audience Reviews for The Fault in Our Stars
A beautiful and mesmerizing movie, with fantastic performances, but super depressing and unpleasantly heartbreaking: not for sensitive viewers...

Surprisingly well made issue movie with a sterling lead performance - though I had a problem with a tiny but belief-defying moment involving some spontaneous applause, as well as a major issue with both the character of Gus and the actor portraying him (I believed in neither).

Any film that can force me to shed a tear gets extra marks and The Fault In Our Stars qualifies in this regard. How you view this story might depend on your opinion on loss. Those like me who think it's better to have the good for however long than none at all will see it one way. Others who think you are better off not knowing what you are missing might see it less positively. A story about 2 teens (Hazel and Gus) who meet at a cancer support group might not immediately seem like something you would want to watch but it is funny at times and very positive in the main. Gus is full of himself but not in an arrogant way, I thought it more of an inner confidence. Hazel is more insular and reserved and is probably caused by the isolation forced upon her by the ongoing treatment. Their parents try their best to be supportive whilst at the same time giving them space but they find this balance difficult at times. Hazel and Gus are heavily influenced by a book about a character who goes through the same experience as them except that the novel ends abruptly and this is a source of irritation for the both of them. I'll admit to finding The Fault In Our Stars a bit too sickly sweet at times but when it scores, it scores very well. The main reason for this is that I found Gus and Hazel believable and very likeable. I warmed to them both very quickly. I also liked Laura Derns performance as Hazels Mum and Willem Dafoes performance (always good) gives weight to the saying that you should never meet your heroes as it can be a disappointment.

A pretty good film, and an interesting take on love, life, and death. This kind of reminds me of Perks of Being a Wallflower, just about death instead of growing up, high school, etc. I'd recommend seeing this film.
See Details