The Flim-Flam Man
(1967)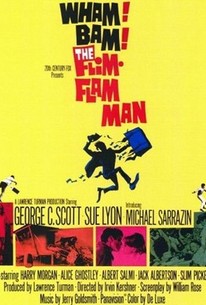 Movie Info
Michael Sarrazin plays Curley, a young man gone AWOL from the Army who soon makes the acquaintance of Mordechai (George C. Scott), a veteran confidence man. Mordecai takes a liking to Curley, and offers to show him the tricks of the trade as they drift through the American South, pulling one scam after another. But when Curley meets Bonnie Lee Packard (Sue Lyon), romance rears its head and Curley decides to go straight. Mordecai is not so easily convinced to leave his trade behind, however, and when a car theft goes spectacularly wrong and Mordecai ends up in jail, Curley has to pull a fast one to got his pal out of stir. The Flim Flam Man also features a host of notable character actors, including Slim Pickens, Alice Ghostley, and Strother Martin.
Critic Reviews for The Flim-Flam Man
All Critics (7) | Top Critics (1) | Fresh (5) | Rotten (2)
O relacionamento entre os personagens de Sarrazin e Scott é uma boa base para o filme, mas este se enfraquece com a subtrama romântica envolvendo Sue Lyon e desmorona de vez em seu terceiro ato que busca o drama.
November 16, 2006 | Rating: 2/5
Pleasant, off-beat comedy drama.
June 16, 2003 | Rating: 4/5
In keeping with their shifty con tricks, the characters stay on the move
January 1, 2000
Audience Reviews
There are no featured reviews for The Flim-Flam Man at this time.
The Flim-Flam Man Quotes
There are no approved quotes yet for this movie.