The Gold Rush
(1925)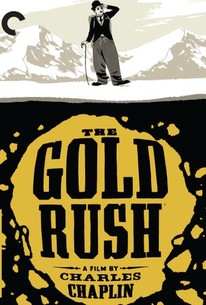 TOMATOMETER
AUDIENCE SCORE
Critic Consensus: A delightful blend of slapstick humor, poignant emotion, and social commentary, The Gold Rush encapsulates Chaplin's strengths as a writer, director, and star.
Movie Info
During the Gold Rush, prospectors brave Alaska's dangerous Chilkoot Pass, hoping to strike it rich in the snowy mountains. Just as Big Jim McKay discovers gold on his claim, a storm arises, prompting a Lone Prospector to take refuge in a cabin. Unknown to him, the cabin's occupant is desperado Black Larsen, who attempts to throw the vagabond Prospector out. Strong winds, however, repeatedly blow the little man back inside, and soon after, Jim is also swept into the cabin. Jim fights with Larsen over his shotgun, and after Jim prevails, the Prospector claims him as a close friend in order to remain safe. Over the next few days, the three men live together uneasily, their hunger growing as the storm rages on.
News & Interviews for The Gold Rush
Critic Reviews for The Gold Rush
Audience Reviews for The Gold Rush
A heartbreaking silent comedy re-released with a narration by Chaplin himself that only adds to it instead of standing in the way, and it is a classic that features numerous memorable scenes in one single film, some of them quite moving while others extremely funny.
Carlos Magalhães
Super Reviewer
½
Disclaimer: I actually watched two versions of this, the original, uncut silent version from 1925 that runs 96 minutes (given today's projection speeds), and the re-release version from the 1940s which includes spoken narration written and performed by Chaplin himself, which has a 69 minute running time. I'm not really sure which one I liked better. The original drags on (or seems that way), but with the re-release, sometimes the spoken narration, though amusing, is way on the nose and a little overbearing. It's shorter, but doesn't always feel that way. I think I might like the original more, though regardless, I'm gonna be honest and say that this film (regardless of version) is overrated. Yeah, I know it's a sin to say such a thing, but I can't help it. I still really enjoyed it, and yeah, it's a wonderful landmark piece of art, but it didn't really seem all that hilarious to me. Maybe it's just because silent films aren't my thing. I saw a few before I watched The Artist, but that film kinda made it really hard for me to appreciate the real deal. I think I appreciate the silent era more than I actually enjoy it. In the broad annals of history though, this film is undeniably important, but as an isolated piece of entertainment, it's great, but not a Full 5. Chaplin does his usual schitck here, though this time his Tramp character is credited as The Lone Prospector (even though he retains his trademark outfit), and the film follwos him as he tries to cash in on the adventure of seeking gold in the Yukon. Leave it to Chaplin to make struggling through some major hardships funny. Not only do he and other desperate men have to deal with their own greed and mistrust of one another, but they have to fight off the elements, starvation, and just general madness. And yes, a lot of this is really funny and amusing. This is one of those films that's been so influential that when you finally see it, you're like, "Oh, so THAT's where this funny bit comes from!" This happened quite a bit while watching this, and I'm mostly referring to the fork/dinenr roll dance seqeunce, hallucinating that someone is a piece of food and trying to eat them, and being in cabin teetering on the edge of a cliff over certain doom. I swear, this film must be in the Top 5 of Most Influential/Ripped Off List. Seeing the bits in their original context is great though, and Chaplin and crew are tremendous when it comes to slapstick. I'm not really that big a fan of this type of humor, but I know the good stuff when I see it. Probably my favorite bit is where two guys are fighting over a shotgun whose barrel always end up pointed at The Lone Prospector, no matter where he moves around to. It's a scream. Are far as the technical aspects of things, this is also a top notch producction. Yeah, it hasn't aged wonderfully, but that is part of the charm, and that's what, I think, makes it more endearing than just the humor. It's sad how much the modern age and digital technology can take away from the hard work and artistry of the filmic craft. Okay, I'm getting rambly. You should probably see this, if only for default reasons, but even then, it's a really good film. Like I said, I'm not the biggest fan of slapstick, and silent films do take a lot of getting used to, but they're really a lost art, and it was nice for me personally to finally see a full Chaplin film. The dude was a one of a kind, and it sucks that there's really no one like him around anymore.
Chris Weber
Super Reviewer
This is the finest Chaplin movie I have seen, and I think I've seen them all. It's sweet but dark, like human beings, and ultimately an ode to the ability of the human spirit to remain elevated in hard times--even when his cabin mate is hallucinating him as a chicken so he can eat him! The choreography in the individual scenes is forehead-smacking: when Big Jim and Black Bart (or whatever his name was) were fighting with a loaded rifle and the Little Fellows was in its sights, it was breathtaking. His dance with the rolls is a tour de force.
Bathsheba Monk
Super Reviewer