The Greatest Showman
(2017)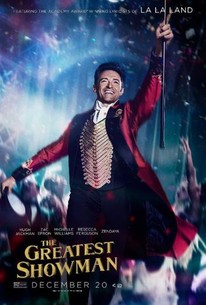 TOMATOMETER
AUDIENCE SCORE
Critic Consensus: The Greatest Showman tries hard to dazzle the audience with a Barnum-style sense of wonder -- but at the expense of its complex subject's far more intriguing real-life story.
The Greatest Showman Videos
The Greatest Showman Photos
Movie Info
Inspired by the imagination of P.T. Barnum, The Greatest Showman is an original musical that celebrates the birth of show business & tells of a visionary who rose from nothing to create a spectacle that became a worldwide sensation.
News & Interviews for The Greatest Showman
Critic Reviews for The Greatest Showman
Audience Reviews for The Greatest Showman
I was as shocked as everyone else when the slow to catch on, critically excoriated THE GREATEST SHOWMAN turned into a bonafide blockbuster. But then again, big, empty musicals sometimes do well. MAMMA MIA and FLASHDANCE come to mind. Pure escapism often gets people through troubling times, be it the Great Depression, the Reagan years, or the current shit show on display. What's better than a fantasy circus to "trump" the real sideshow on the news every minute of the day? Screenwriters Bill Condon and Jenny Bicks have teamed up with LA LA LAND/DEAR EVAN HANSEN songwriters Benj Pasek and Justin Paul and first time director Michael Gracey to bring us a truly terrible film in so many ways, yet achieves greatness as well. Is it possible to love and loathe a film simultaneously? If we're to fall for this movie's themes, then, like its characters, we will sing/shout from the rooftops, "ANYTHING IS POSSIBLE, DAMMIT!" Let me be clear. THE GREATEST SHOWMAN finds its inspiration from the life of circus impresario, P.T. Barnum (Hugh Jackman), but anyone expecting a biopic needs to check their egos at the tent flap. Sketching in his life with the merest hint of an outline, THE GREATEST SHOWMAN celebrates filmmaking kinetics, soaring inspirational anthems, and rhythmic editing...leaving depth, rigor, and layering to the Sondheims, Kanders and Ebbs of the world. Every scene with dialogue feels like the slightest excuse to set up the next singing/dancing showstopper. In fact, I'm convinced Sally Hawkins had more spoken lines in THE SHAPE OF WATER than that of the entire cast of this turkey/masterpiece. Think of this as 20 great Michael Jackson videos strung together or as my friend Dennis said after a screening, "This movie plays like it's a trailer of itself". Yes, it feels like one big montage with style certainly lording over substance, but what style it displays. There's so much epic sweep to every moment, such aggressive choreography, such pageantry and a self-serious call to arms for the "freaks" and the outcasts of the world, that I had to stop myself and ask, "Do I hear the people sing or not?" [LES MIZ fans get an extra point here]. The answer? YES! I HEAR YOU! Jackman and company start things off with a bang with "The Greatest Show", an on-the-nose introductory song if there ever was one, rivaling Styx's "Grand Illusion" or Robbie Williams' "Let Me Entertain You" as Overbearing Kings of Captain Obvious Openers. Then things turn really creepy as "A Million Dreams" flashes back to Barnum's childhood when he meets and falls for young Charity, who will grow into his future wife, played by Michelle Williams. It's a pretty song, but I get creeped out whenever children sing. It wasn't a good look in BUGSY MALONE, and ANNIE felt like a bunch of kids pretending to be scrappy while tap dancing on a rolled out board for an audition. Only little Gavroche in LES MISERABLES worked for me, mainly because he was starving and willing to cut a bitch for his place in revolutionary history. Luckily, the filmmakers have ADD and don't dwell on anything for too long. We move along hastily to finish the number with Jackman and Williams taking over for the kids. I would have preferred they simply cover Jackman in shadows instead of CGI-ing the hell out of his face to look like a man in his 20s, but ain't nothing gonna stop modern movie magic! Flipping through this section, we see Barnum working out his early ideas for what would become his circus. He gathers the troops, or troupe that is, assembling society's throwaways into his iconic Freak Show. Behold the Bearded Lady (scene stealer Keala Settle), the Fat Man, the Tattooed Man, and more. He also finds a business partner in Phillip Carlyle (Zac Efron), who falls for the acrobat Anne (Zendaya), a woman who feels at home with this group because of the racism she faces outside of their circle. At one point, to boost his business, Barnum teams up with Swedish opera star Jenny Lind (Rebecca Ferguson) to go no tour with her, leaving the circus to Carlyle. Ferguson's big number, "Never Enough" proves mesmerizing, despite the fact that former VOICE contestant Loren Allred does the singing. Allred may be the Marni Nixon of today, but Ferguson does such a gorgeous lip sync, entirely invested in this song and the implications of its lyrics, that I didn't care. Of course, Barnum and Lind's relationship will complicate things, but trust me, another musical number's right around the corner to wash away those blahs. THE showstopper of the film, "Rewrite The Stars" puts Efron and Zendaya front and center, and like all of the music here, it's contemporary, anthemic bombast, auto-tuned within an inch of its life, but an unforgettable explosion of pop to hit that sweet spot over and over. I could watch this pair soar and twirl on an endless loop and be happy. Efron croons winningly, but Zendaya comes out the real winner here. A triple threat, she moves wonderfully, sings like an angel (ok, ok, with a lot of studio assistance), but it's her acting which won me over. As she did in SPIDER-MAN: HOMECOMING, she exhibits a beautiful raw fragility, especially when out of makeup. If ever there was a ONE TO WATCH, it's her. Of course the freaks get their rallying cry in "This Is Me" (Oscar nominated), and it's a killer number reminiscent of the "I Got Life" number in HAIR or "La Vie Boheme" from RENT, where the disenfranchised finally have their say. Sure, it's a tad humorless, but I fully expect this song to be sung from floats at LGBT Pride Parades, replacing "I Am What I Am" for at least the next 3 decades. In fact, THE GREATEST SHOWMAN may be the gayest movie ever made without having a shred of gay content. Any film that makes a case for the glory of being different, despite the terrible conditions and abuse the real Barnum put his employees through, deserves a salute. Even Michelle Williams, who gamely surrenders to this wafer-thin film, sells it in her big number, "Tightrope". The fact that this actor can twirl and float about like everyone else, when she's built a career around heavy, crying characters, speaks volumes as to the magical qualities in this movie. Between her, Zendaya, and Ferguson, I was reminded of ABBA. They all have sweet, Agnetha/Frida-style voices and every song has a Swedish pop sheen to it. The circus setting harkens back to that group's SUPER TROUPER days and is a better, more appropriate backdrop for this style of musical than MAMMA MIA's dumb Greek setting. When I hear those Euro-style chords, I think of pageantry and committed dancing, not people shuffling badly on an overly-lit dock. THE GREATEST SHOWMAN is more ABBA than ABBA! Whenever I'm in a bad mood, I put on the "Downtown" number from LITTLE SHOP OF HORRORS, one of the best-realized numbers in musical history, and I feel better. I don't watch the whole film, just the great numbers. I suspect I'll do the same when THE GREATEST SHOWMAN starts streaming. Yes, it's a hot, steaming poo-pile of a movie, but it's catchy, has a good beat, and you can dance to it! In front of us in the theater sat two elderly women. Throughout the film, they threw their hands up in the air or swayed to the music, pumping their arms back and forth. It brought them so much joy, I tapped them at the end to tell them their love of the film made my evening. Is it so bad it's good, or is it so bad AND so good? I'll go with the latter. Didn't a lot of people say the same thing about XANADU?
Glenn Gaylord
Super Reviewer
½
Glossing over all the controversies surrounding the real P. T. Barnum, this is an overly sanitized musical with no ambition and made for easy consumption. Full review on filmotrope. com
Carlos Magalhães
Super Reviewer
It's rare to see an original musical given this sort of stage and attention. We usually reserve this space for tried-and-tested properties from Broadway or whatever animated film Disney has deigned to remake for an extra billion dollars in goodies. Another question is whether the movie will make the use of its big screen potential, as we've been inundated with smaller-scale musicals that are satisfying but lacking in an awe-inspiring sense of scale. The Greatest Showman is a big, splashy, 80s-styled Broadway musical that deals with big moments, big characters, and big emotions. It wears its mighty sincerity on its sleeve and challenges you not to get swept away with all of its charming pomp and circumstance, and for the most part I did just that. P.T. Barnum (Hugh Jackman) is an unemployed salesman trying to provide a life of luxury and imagination to his wife Charity (Michelle Williams) and two daughters. He opens a theater in New York City and hires folks with unique appeal, a bearded woman (Keala Settle), a little person dressed as Napoleon, other so-called "freaks" and several trapeze artists. The show garners some controversy but still attracts a crowd. He reaches out to a rich playboy Phillip Carlyle (Zac Efron) to better shore up the finances. Phillip is reluctant but eager to step away from the pull of his parents, which includes falling in love with Anne (Zendaya), a trapeze performer. Barnum achieves enough success to force his way into the moneyed world of New York high society but he doesn't feel they accept him, so he reaches out to renowned opera singer Jenny Lind (Rebecca Ferguson) and convinces her to come to America. Barnum plans a cross-country tour for his newest star and plans on going with, soaking up every standing ovation from the upper class. With his focus distracted, Barnum is in danger of losing those closets to him. This is a loving throwback to those old Broadway days and it succeeds admirably on the big screen, taking its circus setting and opening up the space. There's a rooftop dance among hanging sheets that reminded me of classic Rogers/Hammerstein. I was particularly fond of the choreography of two duets, both with Efron. The first, "The Other Side," he is being wooed by Barnum in a bar and the two men circle each other in negotiations, eventually jumping on tables, the bar top, and pounding and sliding shot glasses to naturally match with the percussive elements of the catchy song. The "Rewrite the Stars" lovers' duet is playful and romantic as envisioned in its location, the center ring of the show. Zendaya swings along ropes, rings, and weights, making their "will they won't they" songs a literal flirtatious dance, their orbits getting closer to one another, and the tagging makes the emotions of the song feel even larger and more resonant. If you're a fan of the unabashed, big audacious musicals of old with a sincerity that could approach mawkish, then you'll definitely be in for a treat with what The Greatest Showman offers. Reading that the Oscar-winning musical team behind the listless tunes from La La Land was the ones cooking up the original Showman songs did not inspire me with confidence. Well, apparently what they really needed was people who could sing and a canvas that allowed for a wider array of musical instrumentation. The songs mimic the movie in its presentation of exploding emotions and earnestness, and the big group numbers have a habit of feeling very kitchen sink in their melisma. It's all the notes, all at you, with a thundering backbeat, and it can be a little overpowering at first to process, but eventually you adjust to its ecstatic rhythms. The opening number "The Greatest Show" threw me for a loop, with quick audience foot stomps cut with a millennial whoop and then laid over a dozen other musical tracks. It hits you hard but serves as a fine introduction, teasing you about the world to come and Barnum's showcase. The song is also emblematic of my biggest quibble with what is otherwise rousing musical numbers insofar that it's overproduced. There are solid melodies with each song and its reprise; however, it feels like the arrangements cannot settle on when to stop adding stuff. The songs can feel cluttered, weighed down by the added production. Barring that, it's 39 minutes of original music that puts the Oscar-winning La La Land to shame. With any musical, different numbers will strike people differently, so I'll highlight some of my favorites. The aforementioned "The Other Side" has a playful jaunty beat that builds and builds, nicely lending itself to showoff moments for Jackman and Efron as they try and outsmart and eventually out dance (the musical equivalent of persuasive speaking?) one another. the lyrics are also sharp ("I live among the swells/ We don't pick up peanut shells"). It's also a nice change of pace from the anthems and ballads that populate much of the soundtrack. Speaking of ballads, "Never Enough" might come from the least important character in the overall story but my goodness does Voice alum Loren Allred, providing vocals for Ferguson to lip synch, give it such a wallop. The emotion in the singing is crystal clear and made me wince because it's so good. I'm one of those crazy people who care more about the performances in my big screen musicals than hitting all of the correct notes (see: Les Miserables), but it's nice when a performer can grant you both. There's no shame in lip-synching, La La Land. "Tightrope" is Williams lamenting her martial changes but the real revelation is her singing. She takes a fine song and makes it better. The song getting the most awards attention is the anthemic "This is Me" about accepting one's self like a "Let it Go." Keala Settle takes complete ownership with her booming vocals and passionate intonation. It's a calling for all outcasts and delivers the inspirational groundswell into a millennial whoop pinnacle. There wasn't a song that didn't engage me at some level, either musically, performance-wise, or even presentation, and that's one of the most important aspects for a musical. Jackman (Logan) might just be blessed with more charisma than anyone on the planet, and so when he has that twinkle in his eye, you're willing to go on whatever journey with the man. This has been a passion project of his for years and Jackman and he puts his all into being a captivating conman who can get high on his own hokum. He's leaping off the screen to entertain and his dexterity and natural showmanship parlay well into bringing great, bustling life to his character. Efron (Baywatch) is an appealing actor who can so easily pull you in with his adeptness at comedy, acting, dinging, and dancing. It's been a while since Efron hoofed it up on the screen and he hasn't missed a step. Zendaya (Spider-Man: Homecoming) is a born star. She has a moment late in the film where her hoarse voice repeats the chorus of "Rewrite the Stars" and she pushes it from being cheesy into being touching. Williams (All the Money in the World) is better than her underwritten material affords and brings warmth to her understanding, doting wife. For fans of the excellent Netflix series GLOW, which is also all about showmanship, that's Sheila the She-Wolf as a young Queen Victoria (Gayle Rankin) greeting Barnum. Now, the direct sincerity of the entire production is somewhat called into question by its very sanitized approach to P.T. Barnum. One way of looking at his "freak show" was that he was empowering the less fortunate and providing a safe space for them to call a community and earn a wage in a discriminatory job market. Barnum gave them a sense of dignity. Another way of looking at it is that Barnum was exploiting people who had no other options and selling tickets for the public to indulge its morbid curiosities. Barnum is a fascinating figure before he even conjures up the idea for his circus. He was an abolitionist who dropped out of school at fifteen, owned and operated a newspaper by age 21, was jailed for libel, exposed a credit scheme to gain his theater, four in the Civil War, and was a purveyor of any ridiculous and ghastly theatrical stunt, including an enslaved African woman's autopsy to prove she was really 160 years old. Barnum is a complicated historical figure with a wealth of anecdotes that would make great storytelling potential. The movie invents a Barnum for an invented tale, which isn't necessarily a problem except that what we get is absurdly simplistic in comparison to the complex source. Barnum becomes a poor kid with great aspirations, most of which seems to be either joining the rich elites or sticking it to them and their snooty sensibilities. Likewise, being a champion of the "freaks" is naively unsophisticated for a man as craven for publicity as Barnum. The simplicity also extends into the supporting characters that have meager morsels to work with considering the considerable attention Barnum draws. An interracial romance between Phillip and Anne has tremors of importance but falls back on easy signifiers lacking greater examination, like Phillip's agog family response to him being interested in "the help." It's a shame because Efron and Zendaya are terrific together and a simple gesture like reaching out to hold hands can have such power. Charity is the put upon wife we see all-too often in the stories of Great Men, and her domesticity represents the source of Barnum's true happiness. You see, dear reader, Barnum's character arc is that he wants to stick ti to the rich elites, than he wants to be accepted by them, and then he learns the errors of his ways and goes back to appreciating his family and life's smaller pleasures, those pleasures are still living comfortably. It's a strange stop-and-smell-the-roses sort of lesson, and it's even weirder when Barnum seems to lose interest in his community of performers he's gathered. The subplot where Barnum abandons his theater to tour with Jenny Lind feels both obvious and unnecessary. The only tension is whether or not there will be an affair, and the impact of Jenny Lind seems overall fleeting, forcing conflict in contrived fashions. For a man whose life story was writ large and fascinating, The Greatest Showman conjures a sedate replacement. As I was watching and smiling to the soaring emotions and tunes, I kept thinking how 17-year-old me would have likely tore this movie to shreds, lambasting its earnestness as a mawkish attempt to wring out a feel-good story from a questionable source. 17-year-old me would have snickered about how gloriously unhip The Greatest Showman is. Mid-30s me has a much easier time not just accepting sincerity but also appreciating it. The performances are charming, the performers able, and the songs slyly catchy. The story of P.T. Barnum is sanitized with mixed results but the ebullient feeling coursing through this film is undeniable and worked its magic over me. If you've been missing the big Broadway musicals of old, The Greatest Showman will be a three-ring treat. Nate's Grade: B
Nate Zoebl
Super Reviewer
The Greatest Showman Quotes
There are no approved quotes yet for this movie.