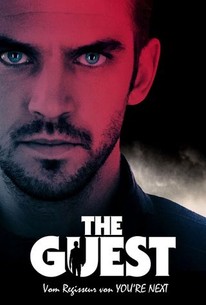 The Guest
2014, Action/Mystery & thriller, 1h 39m
122 Reviews
10,000+ Ratings
What to know
critics consensus
Boasting enough intelligence to bolster its darkly violent thrills, The Guest offers another treat for genre fans from director Adam Wingard. Read critic reviews
Where to watch
Rent/buy
Rent/buy
Rent/buy
Rate And Review
Movie Info
A string of mysterious deaths leads a teenager to become suspicious of a soldier (Dan Stevens) who showed up on her family's doorstep and claimed to be a friend of her dead brother.
News & Interviews for The Guest
Audience Reviews for The Guest
From great blockbusters like X-Men: Days of Future Past or Guardians of the Galaxy, to incredibly Oscar contenders like Bidrman or Whiplash, the year of 2014 was a pretty solid one for cinema as a whole. Sadly, it's films like The Guest that end up going under the radar when it rightfully should've received just as much attention as any of those. Yes, this is a film for a much more specific audience, but as the years have gone on, I don't hear of many people looking back on it. Looking back on The Guest, it not only just holds up, but it still remains one of the best films to be released that year. Here is why you should turn your attention to this film if you haven't already. From the very beginning, you feel as though you're watching an unconventional film. Even though the simple premise of a visitor being welcomed into a home, only to not be what he seems is a little been-there-done-that, The Guest flips this concept on its head, keeping you engaged from start to finish. The premise really is that simple too, making you get comfortable with David and all that his character stands for, only to pull the rug out from under you throughout the third act. This is a light-hearted film that very quickly spirals into a dark, genre-bending picture by the time the third act hits. The Guest is a movie that isn't afraid to mess with your mind. The biggest takeaway when watching this movie, is the fact that David plays off each and every one of the characters as if he truly has a working/growing relationship with them. Making them believe things and becoming very close to them, you really feel for certain characters when they reach a certain fate. I truly found myself in awe by the turns this film takes and how brutal it becomes when characters betray one another. Although you're very much invested in Dan Stevens' performance as David, the film pretty much makes the secondary cast the flies on the wall, trying to uncover his secrets, just as you as an audience member are. By the time the third act hits, you realize why this film has demanded your attention. Most films sputter out and lose gas by the time their climax hits, usually being the weakest portion of the film, but The Guest is definitely an exception to that notion. From awesome chase sequences, to fantastic action, to character arcs that will have you applauding, to the visceral no-holds-barred attempt to make your jaw drop, this is a film that holds nothing back. The vivid colours, along with the pulse-pounding soundtrack/score throughout this finale are the true stars, immersing you in this world. If you find yourself becoming attached to any of these characters throughout the course of the movie, I can guarantee that you'll be emotionally charged throughout this act. In short, The Guest is a film that goes from hardcore drama, to mystery flick, to all-out action, to some absolutely jaw-dropping moments. Never issuing itself a dull moment, keeping the pace just right, the sheer atmosphere that this film creates is eerie and powerful. I never once found myself checking the time while watching this movie. This is the way to make a film. On a very low budget, with an incredibly devoted cast, having some very memorable music to help progress its story, and direction that is out of this world, The Guest is not a film to be missed. Sadly, it has been over the years and I can't recommend it enough. It does showcase some violent imagery and I would only recommend it to very mature audiences, but this is one of the most impressive pieces of cinema throughout this decade so far. This is just my opinion, but I absolutely love every second of this movie. The ending will most definitely bother some viewers, but that's the beauty of film, right?

In terms of tone and pacing, The Guest is a little bit all over the place. But in terms of plot, script, narrative, acting, setting, score, soundtrack, characters, intrigue, effects, humour, rewatchability, entertainment value and originality? Yeah. Pretty much nails it. Final rating:???? - An all round good movie with a little something extra.

Cheapie that is all over the place. Dan Stevens does the psycho bit well but this is eminently missable.

Idiotic. It has potential but it was too vague as to motive and the action scenes were ridiculous. Don't even get me started on the ending.
See Details