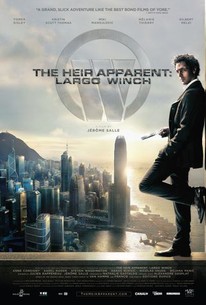 Largo Winch
2008, Adventure/Mystery & thriller, 1h 48m
19 Reviews
2,500+ Ratings
Where to watch
Rent/buy
Rent/buy
Rent/buy
Rate And Review
Movie Info
After a billionaire is murdered, his secret son must establish legitimacy to avoid losing a financial empire.
Audience Reviews for Largo Winch
I somewhat enjoyed this. It had it's moments of fun, intrigue, and action. Some scenes seemed to be cut in an odd way. The storyline was a little odd, also....maybe it's a French thing.

This adaptation of a popular French comic book series is trying to be the corporate James Bond, and even succeeds in a couple of moments. Overall it fails to bring anything original to the table, though. In that sense, the 50% critics and 50% users vote makes total sense. There is great potential and sometimes it is used, other parts are so full of stereotypes you have to roll your eyes. Examples? The cinematography is excellent, there are several really beautiful shots. The (few) action scenes are well delivered, especially the final fight on the skyscraper roof. And there are a few twists you actually don't see coming. But then there is the tendency to dispose of every minor character as soon as it isn't needed anymore, which is lame. Just like the villain who explains all his steps to the hero, and the audience. Overall entertaining corporate crime thriller, with maybe a few flash backs too many but potential for more. Perhaps the second part avoided some of the mistakes.

In "Largo Winch," billionaire industrialist Nerio Winch(Miki Manojlovic) is brutally murderered at his yacht in Hong Kong. Trying to head off a hostile takeover by the nefarious Mikhail Korsky(Karel Roden), Ann Ferguson(Kristin Scott Thomas) takes charge as acting CEO and informs the board of directors that their old boss had secretly adopted a son, Largo(Tomer Sisley), some years before. At that moment, he is in Brazil getting an invincibility tattoo when he rescues Lea(Melanie Thierry), an aid worker in distress, who turns around and frames him on a drug charge. "Largo Winch" is a delightfully daft action movie with a charismatic lead and crisp dialogue that spans four continents and languages, making great use of those locations, and is set in the world of high finance. Beneath the veneer of great wealth, the movie has quite a lot to say about identity. When Nerio asks his son who does he think he is, it is not really a rhetorical question.(And while at first Nerio chooses Largo because he is so spirited, I think it is just as likely that the infant is trying to make a break for it, already having a bad feeling about what is to happen.) And just to prove that this is not all a purely intellectual exercise, there are car chases, fights, shocks, a foot chase, and hot sweaty sex. So, enjoy.

Intresting movie,some fine locations used and a so so story to boot.The movie is let down by the lack of any really good action set pieces as its trying to be a sort of james bond wanna be. But part from that its a decent watch with some decent acting.
See Details