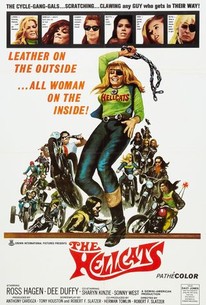 The Hellcats
1968, Crime/Drama, 1h 30m
1 Reviews
250+ Ratings
Rate And Review
Movie Info
A slain policeman's brother (Ross Hagen) and girlfriend (Dee Duffy) infiltrate a motorcycle gang of drug smugglers.
Audience Reviews for The Hellcats
A typical biker film with some saucy female leads. Half of the film composed of people riding their bikes with some really bad soundtrack, definitely not something you want to watch.

I wanted to get on here and rip on this for being a bit of a rip-off of Easy Rider, but it turns out that this came first by two years. The Hellcats is one of those movies you wish you'd never seen. It's absolutely terrible, and not in an enjoyable way. It's just boring. The plot involves a couple of people going undercover as bikers to infiltrate a biker gang and figure out who killed someone they knew. Well, that's supposed to be what it's about. It wanders all over the place, taking its time with lengthy scenes that have really nothing to do with the main plot or even any semblance of a subplot. I understand that the Mystery Science Theatre 3000 guys took this movie to town, but I don't see how. There's nothing really to talk about, so I applaud them for finding something positive out of this mess of a movie. Even the main title music is annoying. I guess what I'm so delicately trying to say is skip this movie altogether. It's a waste of anyone's time.

This movie is below average when it comes to biker flicks, yes, but I think the Mystery Science Theatre 3000 guys make it seem worse than it really is. There is a plot: a cop's brother is killed by a biker gang that is being exploited by mobsters, and he goes undercover with his sister in law to get revenge and justice on both the gang and the mobsters. Why did the guys keep saying there was no plot? There was a lot of bad editing and technical stuff going on in this movie, though, and none of the actors really stood out, but I didn't think the story was as bad as people say. Overall it's not a good movie, but it's not horrible.
See Details