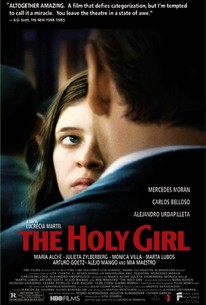 The Holy Girl
2004, Drama, 1h 46m
62 Reviews
1,000+ Ratings
What to know
critics consensus
This provocative, lyrical drama mixes themes of forbidden sexuality and redemptive faith with a touch of humanism in a memorable, if disorienting, visual style. Read critic reviews
Rate And Review
Movie Info
Amalia (María Alche) is an adolescent girl who is caught in the throes of her emerging sexuality and her deeply held passion for her Catholic faith. These two drives mingle when the visiting Dr. Jano (Carlos Belloso) takes advantage of a crowd to get inappropriately close to the girl. Repulsed by him but inspired by an inner burning, Amalia decides it is her God-given mission to save the doctor from his behavior, and she begins to stalk Dr. Jano, becoming a most unusual voyeur.
Audience Reviews for The Holy Girl
Whereas in La Ciénaga Martel was always able to maintain a tight structure and focus even with a huge gallery of characters, in this case her notably flawed narrative - despite her usual social commentary and a promising premise - lacks cohesion and seems to go nowhere.

"The Holy Girl" is one of the most boring films I've ever seen. Set in a hotel during a doctors' conference, it chronicles myriad banalities such as people having lunch together silently. Then we watch maids doing laundry. Then the children of hotel employees take religion classes together. Then teenage girls wash their hair, etc. One banal sequence after another. One girl who lives at the hotel starts to have feelings of longing for one of the doctors at the conference after he touches her in a provocative way one day. She starts following him around the hotel, and he tries to avoid her. The girl's mother also develops a mild crush on this doctor, which is hard to understand because he barely ever speaks or does anything interesting. Almost no one says anything interesting. There is practically no script at all. I cannot understand what writer/director Lucrecia Martel thought was so interesting about all these banalities. Her most recent film, "The Headless Woman," was vastly more interesting. By contrast, "The Holy Girl" has almost no content whatsoever. This is a must-avoid.

Martel defies the canonized "Catholic" topics by alienating the values of love,detest and sickness.Inner sickness,vacant passion and finally,that tempest called teenage years.The languid pace of the film doesn't repulse the viewer,on the contrary...I felt more repulsed by the holiness of certain characters,thus giving me a reason to disrespect their religiousness.

Love her or hate her, Martel's vision and approach to story structure are absolutely unique.
See Details